Please note: I may be compensated through the links in the post below, but the opinions are my own.
Having a special dog treat holder or bumbag that clips on to part of your clothing or belt is going to make your life so much easier!  No fumbling around in pockets or plastic bags for bits of mushy food to give your dog!  It is imperative that you have easy access to these treats as it is critical when training your puppy, or older dog, that these be given immediately the behaviour has happened.  If the delivery of the reward is too delayed then you may be rewarding an unwanted behaviour instead.  Delivery of food treats needs to happen no longer than 1 second after the behaviour has occurred so that the puppy, or dog, associates the treat with the behaviour just performed.
So here's a look at some of the types of bumbags or treat holders that are available.   Give the following some consideration before choosing:
What is going to be comfortable for you to carry?
Do you require a bumbag that needs to have a compartment for your personal items such as telephone, keys, etc as well as the treats.
Or perhaps you just require a treat holder with nothing else?
Are you going to be working in a training class where you might need to carry more treats than if you are going on your daily walk?
Do you want a bag that will hold a ball or toy as well as treats?
We have done some research of the different choices and these are the best to be found: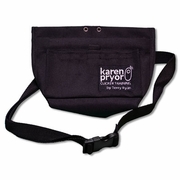 The Terry Ryan Treat Pouch, available from Karen Pryor Clicker Training, features a super-strong hinge that stays open for easy access to food or toys. In addition to creating quick and easy access to treats, the pouch closes easily with a touch and stays closed, keeping dog noses out! The pouch's storage pocket is large enough to fit your entire hand.  The treat pouch belt is adjustable and detachable, providing the option of simply clipping the pouch to your belt or pocket. A key ring keeps your clicker, whistle, or keys handy. The Terry Ryan Treat pouch has a water-resistant lining for easy cleaning and is machine washable. Pouch measures approximately 6.5 inches x 8.5 inches. Opening measures 3 inches x 6 inches.  Includes a Training Tips booklet by Terry Ryan.  Product Features:  Super-strong hinge stays open and closes with a touch; Belt clip or adjustable belt; Additional pocket in front; Key ring to attach keys, clicker, or whistle; Machine washable.
.

Outward Hound Quick Access Treat Bag from Petsmart!  Our Treat & Training Bags are the ideal addition to a walk or training session. Leave them by the door, packed for excursions with pooch bags, treats, and a ball!  Product Features:  Perfect for carrying treats and valuables; Outer mesh pocket for additional storage of pick-up bags and other gear; Pops open allowing easy access to contents; Reflective piping for added safety and visibilty.
Canine Hardware Treat Tote Small Dog Treat Pouch- Assorted Colors
– The Canine Hardware Treat Tote is made of durable pack cloth with a rip stop liner. This dog treat pouch has a specially designed clip that slips onto your pocket or belt. The unique design features an easy one hand open and close. This treat bag holds about 1 cup and measures about 4.75-inches high.  Assorted colors only.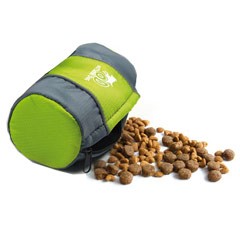 Outdoor Dog Training Treat Bag from Pet Planet  is a  fun and interactive way to teach and train your dog – it can be thrown or hidden for your dog to retrieve.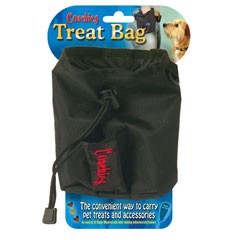 Coachies Rainproof Treat Bag from Pet Planet  The Coachies Treat Bag is rain proof and dog proof! This treat bag is ideal for all reward-based training and can be attached to any belt or pocket. The bag has a drawstring to keep treats fresh and is made from washable fabric. Including clicker pouch, the Coachies Treat Bag can also be used as a holder for your mobile phone and/or keys, this bag is sure to be a practical addition to your daily walks! With belt hook and ring hook attachments.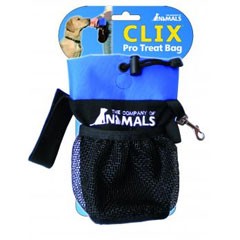 Clix Pro Treat Bag from Pet Planet  The Clix Pro Treat Bag has an abundance of useful features. Designed with the trainer in mind, there is plenty of space for tasty treats and these are kept secure with the magnetic popper seal that can be opened or closed quickly. If you are packing the treats away for a time, extra security is achieved through the drawstring. There is a zip-able hidden pocket on the reverse that you can place other essentials in, or further treats and there is also an elasticated front pouch that gives some further storage space. Simply attach onto your belt and you are all set for an expedition together!
……………….……………………….……………………….