Like humans, our dogs can suffer from diseases of the gums, mouth and teeth and it is therefore very important to check these regularly.  There are a couple of things you might wish to consider to help keep the mouth area clean and healthy.  The most natural way for a dog to keep the teeth and gums healthy is by chewing on raw bones or natural chew sticks.  The other way to keep the mouth area clean is by cleaning the teeth yourself.  It doesn't really matter which way you prefer however as long as the mouth is free from tartar and foreign bits left caught between the teeth then you shouldn't have any problems with disease.
RAW BONES
"Give the dog a bone" from the old nursery rhyme carries far more weight than just being lines from a song.
Bones make up a large part of the staple diet of a wild dog.  One of the benefits of your dog chewing a bone on a regular basis is that the chewing action required helps to dislodge any of the softer food which may have gotten caught between the teeth or lodged between the gums.  The dog's body has been designed to eat and chew and digest certain raw foods to keep it in peak condition.
In our modern society the family pet is no longer the animal left to its own devices for hunting and survival.  We provide it with all its needs and more, including processed foods and treats which would not be a part of a normal diet and can, perhaps, not be the best type of food for keeping their mouths clean and healthy.
For larger dogs, a raw marrow bone is ideal – the dog can chew the hard outer part and then enjoy licking and eating the soft marrow on the inside.  Not only do these types of bones keep the mouth and gums clean but they also keep your dog happy and pleasantly occupied for hours on end.  Don't be surprised if they bury them and go back to them later!
For smaller dogs, chicken carcasses or chicken or turkey necks are equally as good.
It is possible that some dogs may not like to chew bones or they may not agree with their stomachs.  In these instances, you might find that rawhide dog chews are just as good.  It is giving the dog something to chew on which is important for their dental well-being.
.

Finding safe, natural chews for your dog can be a challenge; conventional rawhides are bleached and filled with additives. Only Natural Pet Bully Sticks are all natural, additive free, and made from free range, grass fed & growth hormone free cattle. Let your dog enjoy a satisfying, long lasting chew; including regular, braided, and low odor bully sticks.
.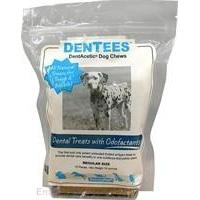 Dermapet Dentees Chew is an all natural, multifunctional treat that is good for your pets teeth and breath. Dermapet Dentees is the first and only patent protected limited antigen treat to provide dental care benefits in one nutritious enjoyable chew:  irresistible taste; brightens teeth; no beef or beef byproducts; no preservatives, artificial flavors or colors;  created by a board-certified veterinary dentist & other expert veterinarians; improves digestibility; limited Antigen for allergic dogs.   Dentees can be given to your dog twice a day and is intended for dogs over 6 months old.
Dermapet Dentees doesn't contain: artificial coloring, synthetic preservatives, plastics or other inert ingredients.
.
 TOOTHBRUSH AND TOOTHPASTE
Even if your dog does chew bones you may still wish to manually clean the teeth yourself to make sure.  You will need to purchase a special dog toothbrush and toothpaste which is specifically designed for dogs. Never use human toothpaste in your dog's mouth.  Dogs cannot spit the toothpaste out of their mouths and human toothpaste has some harmful chemicals if swallowed. You may wish to use a nubby-surfaced rubber cap instead of a toothbrush.  You may need to put some training time in so that your dog gets used to the procedure.  By getting the dog used to your lifting the muzzle and touching the teeth or gums each day they will become accustomed to it.  If you start training your puppy to have the teeth brushed at a very young age then you should have no problems by the time it gets to adulthood.
So all you do is lift the muzzle up and rub the brush or your finger, with a little toothpaste on, over all the teeth until you can see the gums and teeth are free from any debris being left in them.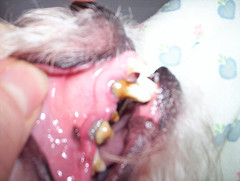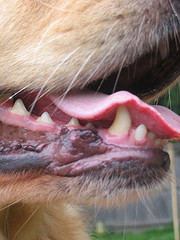 …………..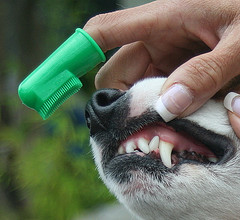 Healthy gums and teeth…………..Cleaning a dog's teeth………………….      Unhealthy teeth and gums
If you really have difficulty getting your hand near the dog's mouth (perhaps it is a rescue dog who may get aggressive) then don't put yourself in any danger.  The last thing you want to do is to get bitten.  In this instance then the best thing to do is to get your vet to check the gums and teeth and give them a brush at the dog's next visit.
How do I tell if I my dog has dental problems? Keep checking his/her teeth and gums regularly. If you see some decay or discolouration on the teeth and gums then chances are that you will need to brush your dog's teeth.  Bad breath can be a sign that there is a dental problem. If you notice a change in the gums (they should be a pinkish colour) or the discolouration or markings on the teeth then the best thing is to take your dog to the vet. If not seen to straight away you will be running the risk of further infection and problems which can lead to high veterinary expenses. Be aware also that as your dog gets older so his/her teeth will start to wear down and also get slightly yellowed. This is a natural process and doesn't mean that he/she has dental problems. You can generally tell the difference between natural aging discolouration and dental disease. However, as you brush your dog's teeth once a week or so you will help him/her stay healthy and happy as well as keeping those vet bills down.
Teeth Cleaning Products
There are many products on the market including dental sprays, dental rinses, toothpastes, wipes, however the best products for keeping your dog's gums and teeth in top condition are not necessarily the cheapest.  Beware of the ingredients in toothpastes as they may contain some chemicals which could possibly be not good for your dog's health.  You might like to look at the following products that we have discovered.

…..QuadBrush Toothbrush for dogs
…..has a unique design featuring four brush heads for complete and thorough cleaning.  Three brushes surround the teeth to clean each side of the tooth surface, while …..the fourth brush cleans the opposing tooth. Designed for convenient, hassle-free use, this brush features a comfort grip handle to reduce slippage during brushing.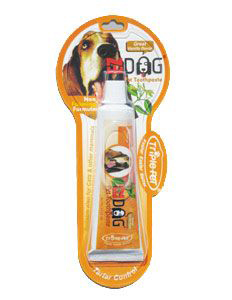 Triple Pet All Natural Toothpaste
from: Only Natural Pet Store
TriplePet Toothpaste has a natural vanilla flavor that pets love, plus it contains a tartar control formula and a touch of tea tree oil for healthy gums. Since it is sweetened with stevia, a natural herb, it is sugar free and provides clean sweet breath for your pet. The toothpaste is non-foaming, so no rinsing is necessary after brushing.
.
Triple Pet EZDOG Dental Kit for Large and Small Breed Dogs
from: Only Natural Pet Store. 
This EZ DOG Triple Pet Dental Kit for Large and Small Breed Dogs and Cats combines the EZDOG TriplePet toothbrush and the EZ DOG Triple Pet all natural toothpaste for a great starter kit to dental hygiene.
The EZDOG toothbrush gets the job done faster, easier and better. The three flexible and independent heads maintain the proper pressure on all surfaces of the tooth with every stroke. In addition to the standard top bristles, the two side bristles are at the proper 45 degree angle for thorough surface cleaning while the soft outer bristles massage and stimulate your pet's gums. By running the brush over thinner and thicker parts of a finger, you can see the independent brushes in action! It also has a robust tongue cleaner at the bottom of the handle.
TriplePet toothpaste has a natural vanilla flavor that pets love, plus it contains a tartar control formula and a touch of tea tree oil for healthy gums. Since it is sweetened with stevia, a natural herb, it is sugar free and provides clean sweet breath for your pet. The toothpaste is non-foaming, so no rinsing is necessary after brushing.
SUPPLEMENTS
As well as the above you can also promote good oral hygiene in your dog by giving specific supplements to prevent disease in the mouth and help keep it free from bacteria which can cause bad breath.  If not kept clean plaque and tartar caused by these bacteria will eventuate into abscesses and toothloss; but not only that, if not treated, will eventually result in damage to internal organs.  Finding natural and chemical free supplements which will aid in the oral hygiene of your dog is a great way of preventing any sort of problems occuring, particularly as your dog gets older.  Gum and tooth disease can be expensive to rectify and will affect the dog's ability to eat and chew.  Prevention of disease is definitely a better option than cure.  Here are a few products you may wish to consider for your dog:
…. Get more info on Gums-n-Teeth to prevent pet gingivitis
….Click Here to Order PetAlive Gumz-N-Teeth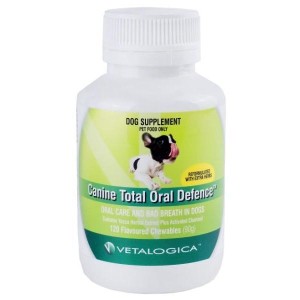 CCanine Total Oral Defense
Vetalogica Canine Total Oral Defence™ is a synergistic combination of Spirulina, Barley Grass and Chlorella. It works by controlling bad breath but also helps promote healthy gut microflora, reduces and controls plaque, tartar, bad breath and malodour and maintains healthy gums. It contains many essential vitamins and minerals such as Calcium, which are involved in normal growth and maintenance of strong teeth.
.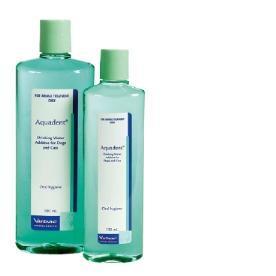 Aquadent
Just add 10mls of Aquadent to 1 litre of your pet's water each day for dogs over 11kg. For pets under 11kg, add 5mls to 500mls of drinking water each day.
Aquadent contains xylitol,which is a well-recognised active ingredient used in human dental health care products. Aquadent helps to improve bad breath when used daily. Aquadent helps to maintain healthy gums after dental surgery/scaling and polishing, which increases the length of time between dental treatments and cleaning.
Get more info on OralHealth Mouth Spray – Promote oral health and address dog & cat breath
Click Here to Order PetAlive Oral Health Mouth Spray