Another important health question is "how to brush my dog's teeth"? Like humans, our dogs can suffer from gum and teeth diseases and therefore need to be checked once a week or so. By keeping regular check and giving your dogs teeth a brush regularly will prevent any decay and disease from occurring.
What you will need to maintain your dog's teeth and gums in a healthy state is to purchase a special dog toothbrush and toothpaste which is specifically for dogs. Never use human toothpaste in your dog's mouth. Dogs cannot spit the toothpaste out of their mouths and human toothpaste has some harmful chemicals if swallowed. You may wish to use a nubby-surfaced rubber cap instead of a toothbrush. By lifting his/her muzzle just rub the brush or your finger with the cap over his/her teeth. If your dog doesn't allow you to do this then you might need to get your vet to brush the teeth at his/her next visit. If you start training your puppy for this at a very young age then you should have no problems doing it yourself as he/she gets older. His/her co-operation will improve if you brush his/her teeth the day you bring him/her home and continue every day until he/she gets used to it.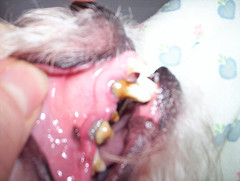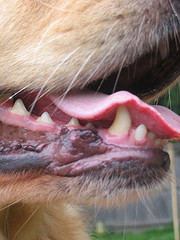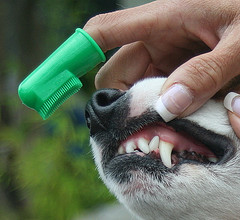 Healthy teeth and gums Brushing a dog's teeth Bad teeth and gum disease in a dog
You may not need to brush your dog's teeth too often if you give him/her a raw marrow bone every week or two. The chewing on the raw bone has the same effect as if you brush your dog's teeth. I have never had to brush my 13½ year old Golden Retriever's teeth and he has never had any decay or problems whatsoever simply because he has chewed bones all his life. I know some dogs, especially the little designer dogs, don't like to chew bones but there are a lot of other nylabone or rawhide chews which can be just as an effective alternative for having to brush his/her teeth if they eat them.
How do I tell if I my dog has dental problems? Keep checking his/her teeth and gums regularly. If you see some decay or discolouration on the teeth and gums then chances are that you will need to brush your dog's teeth. Bad breath can be a sign that there is a dental problem. If you notice a change in the gums (they should be a pinkish colour) or the discolouration or markings on the teeth then the best thing is to take your dog to the vet. If not seen to straight away you will be running the risk of further infection and problems which can lead to high veterinary expenses. Be aware also that as your dog gets older so his/her teeth will start to wear down and also get slightly yellowed. This is a natural process and doesn't mean that he/she has dental problems. You can generally tell the difference between natural aging discolouration and dental disease. However, as you brush your dog's teeth once a week or so you will help him/her stay healthy and happy as well as keeping those vet bills down.