Please note: I may be compensated through the links in the post below, but the opinions are my own.
"The clip is only as good as the quality of clipper and blade" does ring true!  When selecting a dog grooming clipper, be mindful that although there are many varieties on the market and shopping around can get confusing, that cheap may not give the best result or be the most economical.  How to choose the most cost effective product for your requirements is the question, especially if you've never had any experience with clipping a dog before.  Hopefully this information will help you with your decision-making.
Types of Clippers
  Battery operated (Cordless) ………………vs………………Electric operated (Corded)
Clippers are available using either batteries or electric power sources.  Many of the battery operated products can be purchased with rechargeable batteries so it is not necessary to purchase new batteries each time they run down.  To decide which type is most effective for your needs you need to take into consideration how often you are going to be clipping your dog and where.  If you have a large dog that you just want to clip off for summer once a year then you may prefer the battery style and you don't need to be near a power source.  Rechargable cordless clippers come with a rechargable stand.
If you have a small fluffy dog that will need a haircut every few months then you may prefer to purchase an electric clipper where you won't need to be draining and recharging the battery on a regular basis.  A little dog is much easier to clip inside than out if you have a laundry or special area set up for this (refer to our page on Prepare Yourself for Grooming Your Dog at Home).
Wahl Chromado Lithium Clipper
…………………………………Andis MBG2 Pro Pet Clipper
The Wahl Chromado Lithium Ion Clipper…………………..The Andis MBG2 Pro-Pet Clipper is a
offers superior battery power and versatility…………… compact, quiet, single speed clipper,
of a cord/cordless clipper!  The single speed…………….. ideal for pet clipping or student groomers.
clipper can be charged thousands of times………………..This sleek clipper is comfortable to use, and
without any noticeable loss in battery………………………is powerful enough to complete a whole clip.
capacity. The mighty Chromado features…………………The Pro-Pet comes supplied with blade oil,
Constant Speed Control to automatically…………………a #10 blade, four snap-on attachment combs
deliver more power when needed.…………………………… and a step-by-step guidance leaflet.


….2.  One Speed ………………vs………………Two Speed (or even Three Speeds and more!)
Clippers are also available in different speeds.  This refers to the speed of the motor that operates the blade.  Once again, it depends on the type of coat you are clipping and how many times a year you will be using it on your dog.  For a dog with a single coat or only requiring a light trim (there is no thickness in the undercoat) and if that coat is well brushed and kept free from knotting then a single speed clipper would be perfectly adequate.  If the dog has a double (or very thick undercoat) or is not maintained in between clips and gets slightly matted near the skin then you would be better off purchasing a two speed clipper.   There are now three speed clippers on the market however these are best suited for the professional groomer.
Oster Golden A5 Single Speed Clipper
…..3.  Clipper ………………..vs………………Clipper Set
Clippers can be purchased individually or with a set of equipment.  Buying a clipper set can be useful if you are just starting out and not sure what to get.  Sets are differing in what they include – for example, they may come with an instructional CD, a blade and a number of combs, a sample of cleaning fluid, etc.  Once again, it depends on the type of clip you want for your dog, i.e. a fancy breed clip which requires different lengths of coat in different areas of the body, such as a schnauzer, or whether you just want an all-over even length clip.  If you do buy the solitary clipper you will need to also purchase at least one blade and it is also best to purchase some oil and cooling spray for cleaning and keeping in maximum working order, so a basic clipper set might work out to be the better option.
The Andis Easy Clip Versa contains the lightweight yet powerful rotary pink clippers you've come to know and love; now in kit form! Ideal for Small & Medium Breeds, this clipper is designed for light body grooming. The Versa also comes with lubricating clipper oil, blade brush, instructional DVD, & a soft-side zippered case to make it easy to groom at home or on the go!
The Wahl Multi-Cut Clipper is a mains operated pet clipper ideal for home use. The clipper features an adjustable taper control to vary the cutting length without having to change blades. The Multi-Cut is supplied with four attachment combs, scissors, grooming comb, clipper oil, a cleaning brush and instruction guides. A quiet clipper perfect for noise sensitive animals.
Brands of Clippers
The are a number of different brands of clippers however the three most well known ones with a wide range of different products suitable for every need are Oster, Andis and Wahl.  These are the most popular with professional dog groomers and cater for all types of dog clipping requirements, from the professional dog groomer to the novice home pet groomer.  Their products incorporate single and dual speed clippers, corded and cordless clippers as well as trimmers to high speed heavy duty clippers and a variety of clipper sets.  They will quite possibly be more expensive than the less known brands with fewer products however the products are of a superior quality and nowadays are ergonomically designed for comfort and ease of use.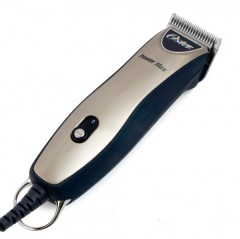 …………………………………………..
Oster PowerMax 2 Speed Clipper
The Oster PowerMax 2 Speed Clipper is an industry standard clipper, ideal for professional or student groomers. This ergonomic, contoured clipper is lightweight and quiet. The clipper features an open case air filter, so the product remains cooler when in use. The Oster PowerMax comes supplied with blade oil, clipper grease, a cleaning brush and a 3.6m cable. The PowerMax clipper is available with a #10 blade.
Clipper Maintenance

Take good care of your clippers and they should last a life-time.  Here are a couple of hints to keep your dog grooming clippers in top working order.
Purchase a small paint brush and use it  to brush off any dog hair which may get caught up near the blade area and around the outside of the clippers after each use.
Depending upon how often the clippers are used, it is a good idea to get them checked and serviced every so often.  A professional dog groomer would get them done probably on a yearly basis however for the home pet groomer only using them a few times a year then it might be an idea to get them checked every few years.  There are qualified service people who can sharpen blades and service clippers.  Sometimes dog hair does get underneath the cover and having them oiled inside once in a while keeps them in good condition.
Keep them stored in a grooming bag or box with the other equipment when not in use to prevent damage and dust getting in.

Andis Blade Care Plus 16 ounce Spray
from: CherryBrook

Andis Cool Care Plus 15.5oz Aerosol
from: CherryBrook
OR CHECK OUT THE RANGE OF PRODUCTS HERE at:
RELATED PAGES:
Dog Grooming Supplies
Dog Clipper Blades