If you have a medium to long coated breed of dog  you may find that their fur will need trimming underneath the paws from time to time.  Such breeds like Golden Retrievers, Border Collies and Cocker Spaniels, Cavalier King Charles Spaniels (although if you show your Cavalier in dog shows for competition the paws should not be trimmed), etc.  have fur which grows longer between the pads on the paws.
This is not a difficult job to do generally and doesn't take a lot of time, however if you have a dog that doesn't lie still or like the paws being touched then it won't be so easy.  You may need to do some training first before you get the scissors out.  Read on and we will cover this further down.  It also may be necessary to clip the dog's nails back at the same time which makes it easier to scissor the fur just behind the nail.

Beaphar Rock Sulphur
Beaphar Rock Sulphur from Millbry Hill is a seasonal addition to dogs' drinking water.  Beaphar Rock Sulphur is solid pieces of sulphur which can be broken off and added to dogs' drinking bowls. Recommended for itchy pads and toes during hot weather.
. WHY SHOULD I TRIM THE FUR UNDERNEATH MY DOG'S PAWS?
  There are several reasons for trimming a dog's paws:-
The dog will not pick up so much dirt or sand and walk it through the house;
Prevention of far more serious objects getting caught up in the extra long fur – such as grass seeds and burrs, bits of glass, or anything else which may cause irritation or enter the dog's skin;
If you live in cold climates it prevents the dog from picking up snow and sludge which can harden quite quickly and do damage to the dog's paws;
It just makes the dog's paws look a lot neater and tidier.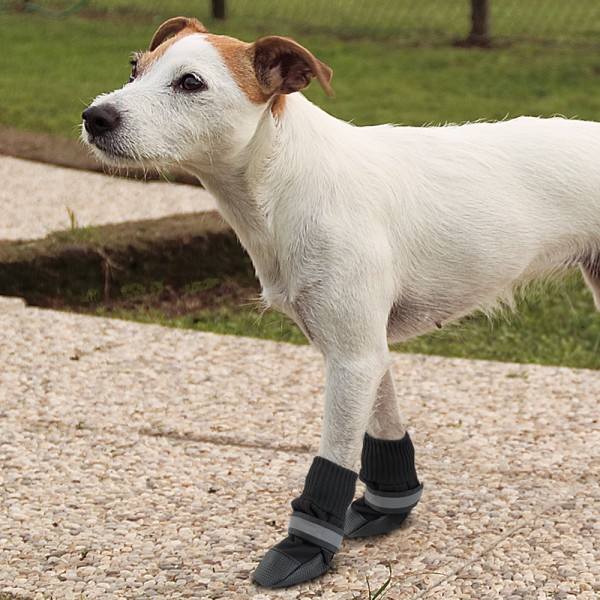 Ferplast Protective Dog Shoes from Millbry Hill
Ferplast Black Protective Dog Shoes x 2 have an anti-slip texture, a reflective strap and are ideal for dogs who suffer from easily split pads.
Sizing Guide:  Measurements – (A x B x H cm)   S – 7 x 6 x 8 cm; M – 8 x 7 x 9 cm; L – 9 x 8 x 10 cm; XL – 10 x 9 x 11 cm; XXL – 11 x 10 x 14 cm
C.O.A. Pet Head Oatmeal Paw Butter from Millbry Hill
 Just gently massage into paws, and go play – natural Oatmeal Scent; contains shea butter, oatmeal, mango, vitamins E and F, jojoba, coconut oil, olive oil & aloe vera; all natural and sensitive to your pets skin; made of Human Grade Materials and are pH adjusted and free of parabens, petroleum derivatives, propylene glycol, sulfate and DEA
PROTECTING THE PAWS FROM WINTER SNOW AND TOXIC CHEMICALS
Some dogs love to romp and play in the snow. Wet, melting snow or slush can cling to the fur underneath the dogs paws.  Accompany this with gravel, dirt or rock salt this can make for sore paws for the dog if not removed.
Rock salt and de-icers which are used for clearing the ground of ice and snow contain potentially harmful chemicals which are toxic if ingested.  If your dog has ice and snow stuck to the paws or even if there is no ice, snow or gravel stuck to the paws still don't allow the dog to lick until after they are washed in warm water and thoroughly cleaned. This means if the dog licks a paw later no toxic chemicals will be ingested into the body.
By giving the dog's paws a trim you are protecting him/her from snow/ice which will stick.
All season paw protection. Shop Dog Boots from Ruffwear – HERE.
HOW DO I TRIM THE FUR AROUND MY DOG'S PAWS?
To train your dog to be still and quiet while having the paws and nails trimmed please refer to our Dog Grooming Training page.
You will need a pair of sharp straight-edged scissors.  It is easier to have the dog lying down and if you are having trouble keeping him or her still then you might find a bone or a chew toy filled with treats might help.
Gently bend the dog's leg and paw so you can comfortably use the scissors to trim the underneath.  Carefully trim the fur on the dog's paw back to being level with the pads.  Dogs can sometimes get matted in between the main back pad and the front ones.  This forms the shape of a 'v'.  To remove any matted bits it will be necessary to trim this portion of fur as close to the skin as possible without cutting the dog.  It is best to keep this area as short as possible to prevent matting and also to minimise any grass seeds, dirt or other matter which could be potentially do some damage to your dog from getting caught up.   Then trim neatly around the edge of the paws so they look neat and tidy – generally in line with the pads.
This might be a good time to trim the nails also.  For this, refer to our page on Clipping Your Dogs Nails.
By keeping your dog's paw trim and neat, not only will the dog feel better and be less susceptible to irritations but he/she will look neat and have better movement as well as not bringing so much dirt into the house.
RELATED PAGES: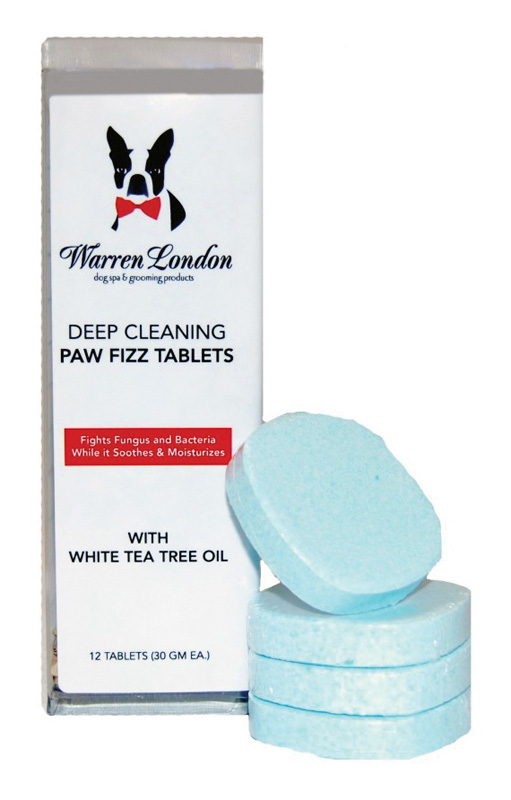 Warren London Deep Cleaning Paw Fizz Tablets
Warren London Deep Cleaning Paw Fizz Tablets cleanse and sanitise canine feet. Featuring a natural formula to help fight and eliminate fungus and bacteria, these Fizz Tablets condition nails and softens pads, as well as brightening the nail's natural colour.
Warren London Deep Cleaning Paw Fizz Tablets features:
•    Deeply cleanses and sanitises feet.
•    Moisturises and conditions nails and paw pads.
•    Size: 12 tablets or 300 tablets.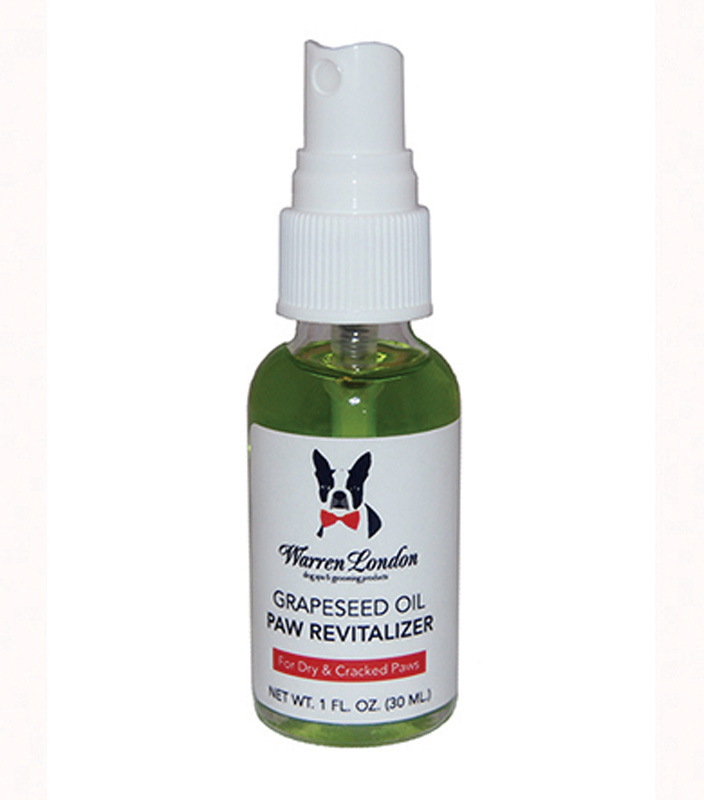 Warren London Grapeseed Oil Paw Revitaliser
Warren London Grapeseed Oil Paw Revitaliser is a moisturising treatment for dry, cracked paws or noses. Created from the grapes of Tuscany, Italy, this unique anti-oxidant rich grapeseed oil blend protects, soothes and replenishes pads from environmental wear and tear.  This natural oil is enriched with anti-oxidants as well as vitamins A, B, B5, D and E. Simply rub a small amount into the affected area two or three times a week.
Warren London Grapeseed Oil Paw Revitaliser features:


……………………………….

•    Soothing treatment for dry, cracked paws or noses.


……………………………….

•    Contains vitamins A, B, B5, D, E and anti-oxidants.


……………………………….

•    Size: 30ml.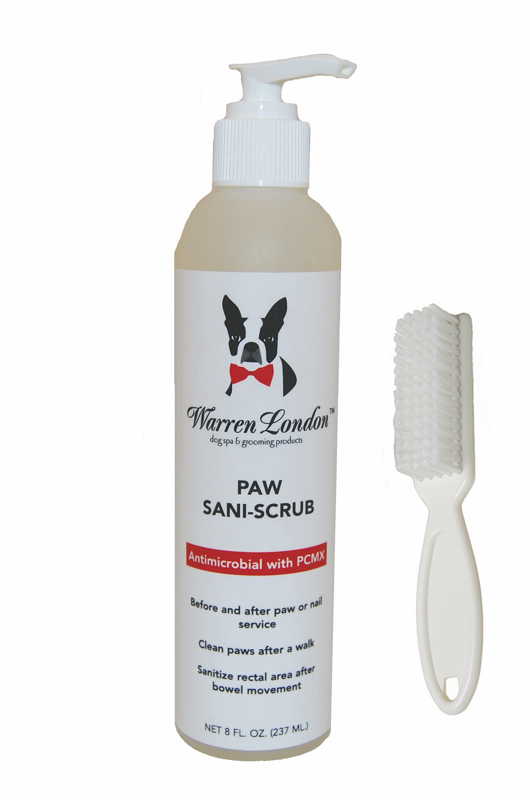 Warren London Paw Sani-Scrub with Brush from Groomers-online
Warren London Paw Sani-Scrub is a natural antibacterial cleanser designed specifically for dogs. Ideal for using after a mucky walk, or after nail trimming services. This Sani-Scrub will safely clean to prevent infection, and is available here with a free soft bristle brush specifically designed to aid cleaning. The scrub is fragrance-free and is suitable for all types of skin, coats or paws. Apply as needed.
Warren London Paw Sani-Scrub features:
•    Anti-bacterial paw scrub for use after walks or whenever necessary.
•    Available here with a FREE soft bristle paw brush.
•    Fragrance free.


………………………………..

•    Suitable for all skin and coat types.


………………………………..

•    Size: 240ml.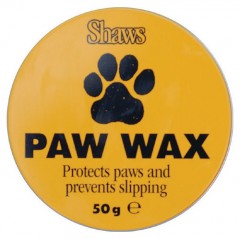 Shaws Paw Wax From Groomers-online
 Shaws Paw Wax is a moisturising treatment for dry, cracked paws. This wax soothes and replenishes pads from environmental wear and tear, and provides added grip when walking on slippery surfaces.  Simply rub a small amount into the affected area as needed.
Shaws Paw Wax features:     •    Soothing treatment for dry, cracked paws.


……………………………………..

•    Provides added grip and prevents slipping.


……………………………………………………………………

•    Size: 50g.