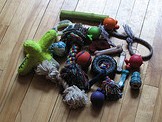 Every dog needs toys of some description to keep him busy and prevent him/her from getting bored.  They are very necessary not only for the dog to have fun but can be used in shaping and preventing behaviour problems also.  Dog toys are a great way to distract him/her from
chewing
your best shoes, the furniture or the reticulation in the garden. They can assist in preventing him/her from digging holes in the garden, or constantly barking or basically any unwanted behaviour.
Chew Toys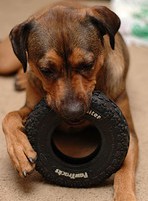 Chew toys are a very important part of a dog's life, especially in their young puppy years.  The best type of chew toys are those made of hard rubber, cotton or natural products such as a raw marrow bone.  By training your young pup to be a chew-toy-aholic you can avoid unwanted behaviour such as chewing the furniture, shoes, or whatever he/she can get their teeth upon.A great game for your young pup is to have a few kong toys stuffed with moistened kibble and after having been in the freezer place them around the garden.  Your pup will have a great time searching for them and then keep himself/herself occupied by licking the kibble out.  You could alternate by using chicken wings to keep the pup interested in them.  Be careful not to
overfeed
.
Or, you might want to try hanging the chew toy up just enough that it is over your dog's head and he has to reach up to lick and play with it.  Rubbed with vegemite or peanut butter he will be wanting to lick every last little bit.  While he is occupied with this he won't be barking or digging or displaying unwanted behaviours.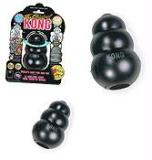 Chew toys come in different sizes so you will need to get a size appropriate for your pup and as he/she gets older increase the size.  Chew toys can be handy for your pup crate training.  Always have a chew toy with something yummy in it when you put him in the crate.  Or rub a nylabone type toy with vegemite or peanut butter.  You need to encourage your pup to chew, especially when you have a growing pup who will be going through a teething stage at about six months of age.  Nylabone dog toys as well as raw marrow bones are great for keeping your dog's teeth clean and jaws strong and healthy.
Squeaky Toys
There is such a huge range of squeaky dog toys available these days in all shapes and sizes.   They come in plastic or soft material.  Squeaky toys can be very useful for the older dog, especially the ones.  Squeaky toys can be used in training if your dog is not motivated by food.  Use a squeaky toy to free a dog off after a great training session.  You can squeak the toy to get the dog's attention instead of saying the dog's name.  Some dogs just love the squeaky sound these toys make and will keep playing with these for ages.
It is not recommended to give your very young pup squeaky toys.  Teach your pup to chew on the chew toys as mentioned above.  Puppies (and some older dogs too) can tend to chew or rip these squeaky toys up in a very short space of time and you will need to be careful they don't swallow the parts inside the toy as they may do some internal damage.  I had a golden retriever who would tear soft toys up in minutes and this continued even into her elderly years.    If you do have a dog which just likes to rip these apart it might be best to consider another sort of toy such as a kong chew toy, rope toy or hard nylabone chews.
Retrieve Toys
One of the best dog toys you can have on hand are fetch and retrieve toys – tennis balls, frisbees, etc.  This not only a great activity for him/her but it will keep him/her well exercised.  If you are not able to walk your dog sometimes then this type of fetch and retriever play will be just as good exercise for your dog.
A good tip is that if you are training your dog to fetch a particular item, eg.  dumbbell for obedience trials, then don't leave this toy lying around.  This toy is not his/hers – it is yours and only comes out when you are doing some training practice.  It is always good to have toys that he/she only has access to when you say so.
Really there is just so much choice for dog toys available these days and at very reasonable prices.  You might like to check out some of our recommended sites for a wide variety of dog toys for your dog or young puppy.