Dog leashes made of soft material, webbing  or any other soft material that is comfortable and flexible to use are the most popular.  They come in thousands of different styles, colours, patterns and they vary in length and width.  A soft lead is the ideal choice and most comfortable to work with and especially for any owner wanting to train their new puppy to walk nicely on a lead without pulling then this is definitely the best way to start.  If you have just acquired a puppy it is important to commence lead training as soon as possible.  Little puppy leads are ideal for this however they will need to be replaced as the puppy outgrows them.  For more information on introducing your puppy to lead training go to our page on Puppy Training.
There are now leashes with very specific purposes including multi-functionability for adult dogs also.  Check out the ones below – they may just be better suited for your requirements than a regular soft lead!

Check out the wide range of soft dog leashes from Muttropolis here!

Regular Soft Leads
For adult dogs who have not been adequately trained and are strong pullers, or those who may have aggression issues then this is not necessarily the most appropriate type of lead to use (we will go into other types of leads and harnesses further down).  Or, perhaps, consider whether your dog is a chewer and is likely to chew through a soft nylon lead while you are not looking in which case it may be necessary to look for a more specialised soft lead that is non-destructible.
Specialised Soft Leads
As well as the standard soft lead for everyday use there are a number of specialised leads with strong, multi-function features that enable their use for more than one purpose; or they have specific functions.  Here are ones that may be more beneficial than just a normal soft lead.
Vario 4 Multi-Function and 6 Multi-Function Leashes (available through EZYDog, www.ezydog.com):  
Made with a special blend of super soft nylon, the Vario 4 and 6 dog leashes are bound to make walks, play days, hikes, and every sort of adventure more enjoyable for everyone.  The Vario 6 multi-function snap hook leash performs six dog controlling actions including leash shortening, traffic control and our hands-free dog leash feature making the Vario 6 one cool leash.
Features

Standard Vario 4 multi-function leash fits dogs over 44 lbs. or over (1″ wide); Vario 6 fits dogs 40lbs and over
LITE Vario 4 multi-function leash fits dogs under 44 lbs.  (.5″ wide); Vario 6 fits dogs under 40lbs
Vario 4 – easily switch from a 6 ft. leash to a 3 ft. leash; Vario 6 – works as a single or double dog leash
Vario 4 – converts with one movement into 2 ft. control leash; Vario 6 – converts from a 5ft to a 3ft leash in seconds
Vario 4 – functions as a temporary check collar and leash all-in-one; Vario 6 – works as a hands-free leash
Vario 6 – can be used as either a short or long tether
Light reflective webbing for low light visibility; soft yet extremely strong and durable
Colors: Black, Red, Blue, Orange, Chocolate, Candy, Green Camo, Pink Camo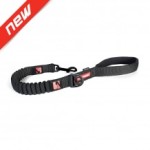 Zero Shock Leash (available through EZYDog):
Zero Shock Technology is the advanced shock absorbing component in the center of the leash that cushions and eases the pressure for both the owner and the dog.
Product Information
Built with EzyDog's patented Zero Shock Technology
Made from the highest quality materials
Drastically reduces strain and pull on dog and owner
Neoprene outer on handle making it waterproof and comfortable to grasp
Accessory D-Ring for attachment of keyring or any item with a clip
Ultimate comfort, control and protection for you and your dog
Color Options: Black, Blue, Chocolate, Candy, Blaze Orange, Red
Size Options: 25 inch, 48 inch
Check out the other unique leashes and leads here at www.ezydog.com!
Flat Out Leash (available through Ruffwear, www.ruffwear.com)

The Flat Out Leash features a side release buckle that allows for three handle conversions:
1. Hand-held leash (for a standard walk)
2. Waist-worn leash (for a hands-free adventure)
3. Fixed leash (clipped around a tree or post while you run to grab a cup of coffee)
A convenient traffic handle close to the Talon Clip™ gives you quick control.
Available in four solid colors and four patterns. Get a matching Hoopie™ Collar for the complete set up.  View all other leashes and leads at www.ruffwear.com!
ThunderLeash (available through Karen Pryor Clickertraining, www.clickertraining.com)
Dog harnesses can be great tools for many dogs, but not everyone wants to make the effort to get one on to their dog—and not all dogs enjoy wearing them all the time. The perfect solution for the "periodic puller," ThunderLeash combines a leash in a harness in one convenient unit, helping to make walking your dog a hassle-free, positive experience for both of you.
For quick or regular walks when pulling is not a problem, simply connect the ThunderLeash to your dog's collar just like any other leash. When your dog pulls, you can quickly and easily wrap ThunderLeash around your dog's torso to create an instant "no-pull" harness. ThunderLeash reacts to a dog's pulling with safe pressure on the torso, providing gentle, calming feedback. Professional dog trainer recommended. 100% manufacturer's satisfaction guarantee.
View other types of leashes and leads at www.clickertraining.com!