Rakes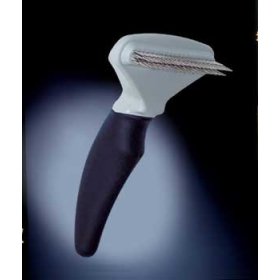 A dog grooming rake is a great tool to use on a large thick coated dog such as the Alaskan Malamute, Akita, Siberian Husky, German Shepherd or any other breed of dog that has a long coat or very thick undercoat. These rakes have teeth designed to strip the dead hair and the shedding undercoat out of the dog leaving the top outer coat undisturbed.
Some of these breeds of dogs will moult profusely during the change of seasons, particularly from winter going into summer.  The coat will build up from the base at skin level and matt up quite quickly if the dog is not raked out every couple of days.  It may appear from the top surface of the coat that all is ok however if you part the fur and feel down at the skin level you will notice the clumps of fur starting to accumulate.
The rake has long, sharp blades which will separate the fur and dig through the coat thickness to draw the loose, moulted clumps out.  Generally they will work out tangles and matting however if the coat is severely matted then you may need a dematting comb to assist getting these out or even to clip the dog's coat entirely.  Refer to our page on Matted Dogs and An Introduction to Clipping Your Dog.
FURminator D-Shedder for Long Hair Dogs AND FURminator D-Shedder for Short Hair Dogs    quickly and easily removes the loose, dead undercoat that is the underlying source of shedding. Unique stainless steel edge grabs loose undercoat and removes it without damaging the topcoat. FURminator brings out the pet's natural oils, Promoting healthier skin and a shiny topcoat and reduces the amount of airborne elements that cause allergic reactions in many people.
These come in 4 sizes:           Long Hair  –  Toy, Small, Medium, Large


……………………………………….

Short Hair  –  Toy, Small, Medium, Large

 There are many varieties of rakes available on the market to choose from so it will be necessary to choose a rake that is suitable and appropriate for your dog's length and thickness of coat.  Here are a few to choose from:
GRIP SOFT DOUBLE ROW UNDERCOAT RAKE

MARS Coat King Home Line No 10 Blade dematting and thinning rake for breeds with fine to medium coats. Eg Lhaso Apso, Shih Tzu, Golden Retreiver etc. Also good for medium to long haired cats.MARS Coat King Home Line No 19 Blade:-great grooming tool for Cocker Spaniels, Cavaliers, Springer Spaniels and dogs with similar grooming needs.MARS Coat King Home Line No 7 Blade:-wonderful Grooming tool for Keeshonds, Old English Sheepdogs, Samoyeds and other thick coated breeds.
JW Pet Company GripSoft Double Row Undercoat Rake Dog Brush
Double rows of stainless steel teeth remove dead or shedding hair from the innermost layer while leaving outercoat undisturbed. Soft rubber sheathed handle gives you a non-slip, comfortable grip. Finger-fitting contours of the handle increase your comfort and control. Used by professional groomers. Tips from Addie the Groomer in proper use of this tool: Your dog's skin is sensitive. To avoid harmful scratching, you'll want to keep the handle of the rake slanted upright while you lift out dead and shedding hair from the innermost layer of your pet's coat. Use this rake on breeds such as collies, shepherds, shetland sheepdogs, retrievers, setters, pomeranians, pekingese, medium and long-haired mixed breeds.

The Mikki rotating double tooth under coat rake

Is an easy way to help diffuse matts and tangles as well as in the removal of the fluffy undercoat, leaving a healthy topcoat. The ergonomically designed handle ensure comfort and control for the user. The flexible spring mounted pins curve to the contour of your dog's body and the double tooth design effectively removes dead hairs from the undercoat.
DE-SHEDDING TOOLS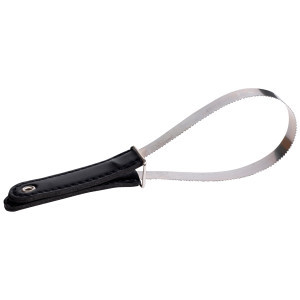 De-shedding tools are specifically designed to help reduce shedding for dogs that shed a lot of hair.  These are not only for long haired dogs but also come in designs for short-haired dogs as some short and medium length coated dogs can sometimes also be continuous shedders.  These tools will generally get underneath the top coat and take out the loose undercoat, leaving the top coat undamaged and looking tidy.
De-shedding tools come in the form of combs, blades, brushes and rakes it is a matter of choosing one that you feel will be best for your dog.  They are mostly all designed with ergonomic handles for easy use.
….Check out the range of de-shedding tools available here at Pets Warehouse!
Works for both double and single coats; 2 popular sizes available
* Guaranteed to reduce shedding in dogs and cats in the first grooming session
* Gentle on your pet – will not damage their skin
* Ergonomic tool design for easy comfortable use
No sharp blade
* Detangles hair as well as removing loose hair
* Exceptional value for money – used by pro groomers
* Designed to fit your hand comfortably
DE-SHEDDING PRODUCTS
As well as the shedding tools to assist with your dog's grooming why not try these products to help control shedding and make your dog's coat easier to manage:
.

Miracl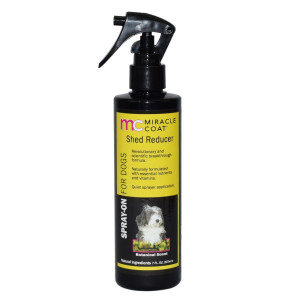 e Coat Pet Shed Reducer
Scientifically developed to effectively reduce excessive shedding without affecting the pet's natural shedding cycle. Spray-on formula offers essential, natural vitamins, moisturizers, and conditioners that work their way to the hair follicles to improve the pet's skin and coat. Coat will look lustrous and healthy, skin will be moisturized and you'll notice much less pet hair and dander ending up on carpets, furniture and clothing. For Dogs only. Not for dogs under 8 weeks old.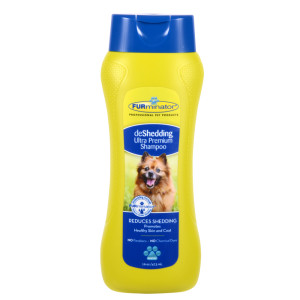 FURminator Deshedding Ultra Premium Shampoo
FURminator Ultra Premium Shampoos for dogs address shedding at its core, enhancing the effectiveness of the pet deShedding tools. Enriched with Omega 3 & 6 Fatty Acids, Calendula Extract and Papaya Leaf Extract, this blend of natural ingredients helps protect against excessive shedding leaving a healthy and shiny coat.
All FURminator shampoos, hair care and hygiene products are free of parabens and chemical dyes and are made in the U.S.A.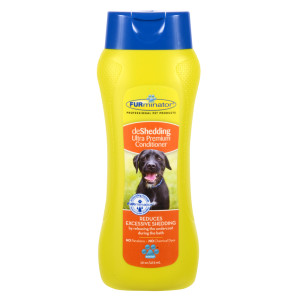 FURminator Deshedding Ultra Premium Conditioner
FURminator deShedding Ultra Premium Conditioner for dogs help strengthen the hair shafts and release undercoat during the bath, allowing more hair to be removed during deShedding treatments. Enriched with Omega 3 & 6 Fatty Acids, Chamomile Extract and Aloe Vera.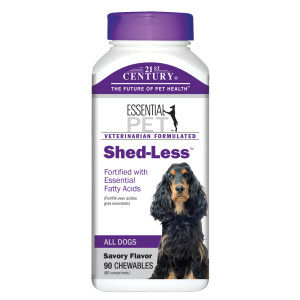 21st Century Shed-Less – Level 1
Essential fatty acids, such as omega-3, are known to help maintain healthy skin and coat.  Shed-Less is a supplement fortified with vegetable oils known to contain essential fatty acids to support the reduction of shedding and skin and coat health.  Ingredients:   Liver Meal, Dried Whey, d-Calcium Phosphate, Stearic Acid, Cellulose, Dried Milk, Magnesium Stearate, Flaxseed Oil, Sunflower Oil, Safflower Oil, Magnesium Silicate, Silicon Dioxide.