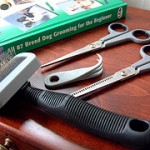 If you have decided that you prefer to groom or clip your own dog then acquiring good quality set of grooming supplies is essential.   Depending on the breed of your dog will depend upon what equipment for grooming you need.  It is not necessary to go out and purchase professional dog grooming kits unless you plan to do some professional dog grooming however it is worth buying tools that are good quality and a little more expensive rather than tools that are cheap.  Initially your dog grooming supplies might seem a little expensive however if well maintained they will last you a long time so it is worth doing some research and buying quality products.Dog grooming supplies will range from clippers and blades, brushes, combs, scissors and dog nail clippers to products required for keeping the dog clean and neat and tidy. There is a wide range of grooming supplies available through pet stores, veterinary clinics, the internet and department stores.
Supplies for grooming your dog purchased through supermarkets can sometimes tend to be on the cheap side and you may find they do not last so long or do not do the job so well . When looking for grooming equipment, particularly with clippers, blades, scissors and brushes it is definitely worth choosing good quality and reliable equipment.  For example, human clippers don't work so well for clipping a dog as the professional dog grooming clippers.  If you spend a little more initially you will get a better result and end up with equipment which will last a lot longer and make the job of grooming your dog easier.
It is best that you do some research before investing in the dog grooming supplies that you require. You might like to check out what the professional groomers use.  You can purchase equipment of better quality through pet stores and veterinary clinics as well as online wholesale companies such as Vet Products Direct.
If you wish to find out more about specific types of dog grooming supplies then click on the individual item links below.
Other Dog Grooming Supplies
These items are a must for dog grooming supply kit.   Protect yourself and your dog while grooming and bathing your dog!
.
Nova Pearls Deodorizing Spray  …………    Nylon Grooming Jacket
……..   ……………..Happy Hoodie Small
..
……………………                  ……………………..(available in Small, Medium.
………………………………………………………Large  and Black or Burgundy)
.
.
or choose your own supplies from Amazon below.