These instructions will give you some ideas on how to get your dog grooming area set up in preparation for clipping and/or grooming your dog. Before getting started, obtaining the right supplies is essential. You might like to refer to our page on dog grooming supplies if you are not sure what the different items are that you require.
Grooming Equipment Requirements:-
Short-haired dogs which don't shed much coat (eg Bull Terrier breeds)
a)    soft bristle brush or;
b)    double-sided brush with pins on one side and soft bristles on the other;
c)    pair of nail clippers if the nails get too long and need clipping.
Wire-haired dogs or dogs with medium length coat but not thick (eg. Terriers, GSPs, Golden Retrievers, etc)

a)    soft-pinned slicker brush;
b)    pair of straight-edged scissors if fur needs trimming around the paws or on the tail;
c)    pair of thinning scissors if any feathering needs thinning out.
d)    pair of nail clippers if nail clipping is required.
Thick coated breeds with short to medium length (eg. Akitas, Alaskan Malamutes, Spitz Breeds in general)
a)    shedding rake;
b)    medium-pinned slicker brush;
c)    nail clippers if nail clipping is required.
Any long-haired breed, designer dog or other breeds which require clipping (eg.  Maltese/Shih Tzu crosses, Cocker Spaniels, Bichon Frise, Lhasa Apso)
a)    good quality clippers and blades;
b)    soft or medium pinned slicker brush depending on length and thickness of coat;
c)    comb to test coat for matting;
d)    pair of nail clippers if nail clipping is required;
e)    de-matting comb if matting has occurred;
f)    straight-edged scissors and/or thinning scissors.
Bathing Requirements:-
a)    shampoo and conditioner (if you wish to condition the dog's coat after the bath);
b)    shammy or cloth to wash the dog's face and clean any tear build-up out of the eye corners;
c)    ear wipes or an ear cleaning solution to clean the dog's ears;
d)    bath towel to wipe the dog down after his bath;
e)    hair dryer or blow dryer to dry the dog off with (if he/she will tolerate it, that is).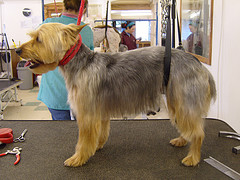 For a smaller dog it will be easy to do the grooming on a table at a comfortable height which you can work at.  Proper dog grooming tables are available for purchase but really any sturdy table will do.  You might want to cover the table to prevent it getting scratched and prevent the dog from slipping.  It will be best grooming your dog somewhere where it is easy to sweep the fur up afterwards. Grooming arms are available which attach to proper grooming tables and these can make the job much easier by holding the dog secure.  These grooming arms have a couple of noose leads attached – you place one lead over the head and the other place the dog's back legs into the noose and move the lead up so it secures him/her from the back end.  These are adjustable to the size of your dog so you won't need to worry about strangling him.
A large and heavy dog may be difficult to get onto a table so grooming possibly will be more comfortable on the ground.
Your bath area should be clear from anything that is breakable and dangerous.  If you dog wriggles or shakes you don't want anything damaged or any accidents occurring.
NEVER clip your dog in the bath or near a water outlet – water and electricity together don't mix.  You don't want to electrocute yourself or the dog.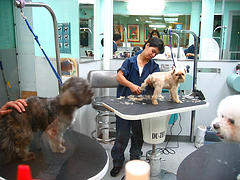 You might want to also consider how close your area is to the basin or bathing area where you intend to wash your dog.  If you are doing the job inside the house will your dog be dripping water through the house?  Are you planning on giving him a blow-dry?  You might find that the best place for clipping and grooming is your laundry area.  Have you got towels ready to hand and have you a cloth for washing the face?  Washing and drying is a breeze with Soft Touch Pet Towel Set
.  Is the shampoo ready to hand?  You don't want to start washing him and then find you have left something in another room.  You might want to have cotton balls and ear solution, a range of solutions are available at Only Natural Pet Store, and clean your dog's ears while he/she is in the bath.
Dog Grooming Apparel
Other handy items are a waterproof nylon apron
which will protect you from getting wet or a nylon grooming jacket
which will help prevent dog fur sticking to your clothes.  These special grooming  jackets come in all sizes and colours are burgundy and black.  The special nylon fabric will prevent dog hair from sticking to your clothes and protect you from getting so wet.
These dog grooming instructions are intended to assist you in getting your area set up in an organized way so you will find the job will be made a lot smoother and easier.  All your dog grooming supplies will be at hand and you won't worry about forgetting anything.
Midwest Grooming Tables
3/4″ Birch Plywood Top (grade A/B) Easy to Clean & Maintain Ribbed Rubber "No-Slip" Rubber Working Surface Fully Welded, Durable Black E-Coat, Folding Tubular Legs Provide Maximum Stability 1″ Charcoal Gray Vinyl Trim Molding to Protect Clothing Available with Grooming Arm and Security Loop (Model G3018A, G3624A & G4824A come with Standard grooming arm and security loop)