Please note: I may be compensated through the links in the post below, but the opinions are my own.
Before getting started with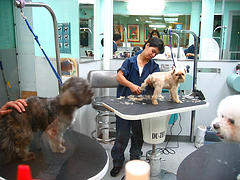 the actual dog grooming instructions, obtaining the right dog grooming supplies is essential and creating an area or room at home where the job can be done effectively and with the most efficiency of cleaning up afterwards is important.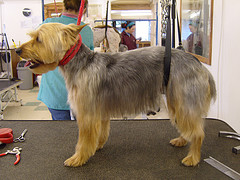 No two ways about it – grooming can be a messy job!  You could have an outdoor area (ideally, enclosed so the dog can't go running off in the middle of the job) or if there is no outdoors area a laundry or bathroom would probably serve just as well to set up all your equipment.  You also need to have all the necessary dog grooming supplies to hand.  Below is a general list of the different coat types and some or all of the appropriate dog grooming tools that you may require – you may not require all of these, e.g. you may not need to purchase dog nail clippers if the dog runs on hard surfaces and they are naturally kept short.   Our dog grooming supplies page details the different types of equipment that may be necessary or alternatively the links of each individual item will direct you to the appropriate page if you are not sure what the different items are or where to purchase them from.
DOG GROOMING TABLES and ARMS and Chairs

Firstly, consider whether you will need a table to stand the dog on while you are doing the grooming.  For small dogs it is much easier to groom them at waist height so you don't have to bend over.  Special dog grooming tables with adjustable heights and with non-slip surfaces are a good idea, particularly if you have more than one dog to groom.  A range of grooming tables from simple stand tables through to hydraulic professional grooming tables plus accessories are available for very reasonable prices at CherryBrook in the United States and Groomers-Online in the United Kingdom.  If you have any sort of table that you can put a non-slip mat and is the right height once the dog is standing on it then there is no reason why you cannot use that and save yourself some money also.
If you have a dog that is likely to wriggle then you may wish to look at purchase a Grooming Arm, or even two if necessary.  The arm is to be secured to the table tightly so it does not move and the loop is to be placed around the dog's neck.  If required, a second arm could be purchased which would be placed at the other end of the table and this is to hold the dog at the back end.  Place the dog's hind lets into the loop and then slide the loop up so it holds the dog around the around the tummy area.  The loops can be adjusted for size – they should not be too loose or too tight.  They should fit comfortably around the dog's body and should just be enough to hold him/her in place.  It is quite possible, if you have the right type of ordinary table, that these arms could fit onto a normal table as well.  This allows you to use two hands to do the grooming rather than holding with one and trying to groom with the other and rather than having a second person hold the dog.
If you h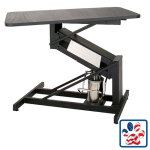 ave multiple dogs or are grooming for a more professional look then you may wish to consider the tables that you can adjust to height.  These are available with either hydraulic or electric height adjustment.  The beauty of these is that a large, heavy dog can be walked onto and off the table with no lifting on the part of the groomer.  They can then be raised to the appropriate height for maximum comfort of grooming.  For a large dog, you have the ability to raise the table a little higher while you are working on the lower part of the dog's body and the lower the table to groom the upper part of the body so there is no bending or reaching high – it can all be done at a comfortable level.>  These are, however, are a lot more expensive .  Check out the great range and specials at CherryBrook!
Hydraulic Table 24 x 36 Top / Round Base – Champagne
from: CherryBrook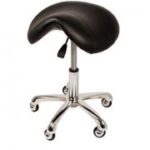 If you find that standing to groom your dog is going to be difficult and tiring on your back then you might find this grooming stool a worthwhile piece of equipment.  Available at Groomers-Online.co.uk, this saddle stool on wheels allows for comfort and ease of maneuvering to take the stress off your body whilst grooming your dog.  Other special grooming stools are also available from www.groomers-online.com.
Grooming Equipment Requirements:-
Short-haired dogs which don't shed much coat (eg Bull Terrier breeds)
a)    soft bristle brush or;
b)    double-sided brush with pins on one side and soft bristles on the other;
c)    pair of nail clippers if the nails get too long and need clipping.
Wire-haired dogs or dogs with medium length coat but not thick (eg. Terriers, GSPs, Golden Retrievers, etc)

a)    soft-pinned slicker brush;
b)    pair of straight-edged scissors if fur needs trimming around the paws or on the tail;
c)    pair of thinning scissors if any feathering needs thinning out.
d)    pair of nail clippers if nail clipping is required.
Thick coated breeds with short to medium length (eg. Akitas, Alaskan Malamutes, Spitz Breeds in general)
a)    shedding rake;
b)    medium-pinned slicker brush;
c)    nail clippers if nail clipping is required.
Any long-haired breed, designer dog or other breeds which require clipping (eg.  Maltese/Shih Tzu crosses, Cocker Spaniels, Bichon Frise, Lhasa Apso)
a)    good quality clippers and blades;
b)    soft or medium pinned slicker brush depending on length and thickness of coat;
c)    comb to test coat for matting;
d)    pair of nail clippers if nail clipping is required;
e)    de-matting comb if matting has occurred;
f)    straight-edged scissors and/or thinning scissors.
Bathing Requirements:-
a)    shampoo and conditioner (if you wish to condition the dog's coat after the bath);
b)    shammy or cloth to wash the dog's face and clean any tear build-up out of the eye corners;
c)    ear wipes or an ear cleaning solution to clean the dog's ears;
d)    bath towel to wipe the dog down after his bath;
e)    hair dryer or blow dryer to dry the dog off with (if he/she will tolerate it, that is).
Your bath area should be clear from anything that is breakable and dangerous.  If your dog wriggles or shakes you don't want anything damaged or any accidents occurring.
BEWARE of electrical cords and water.  Make sure water is not going splash or puddle near any electrical equipment.  You don't want to electrocute yourself or the dog.
Provide a soft, cushioned surface while grooming your pet with the Top Paw Tub Bathing Mat. The nice sized, bone-shaped mat is the perfect grooming accessory! A PetSmart exclusive. The bone-shaped mat reduces slipping and protects bath tub from scratches; suction cups hold mat in place; mould and mildew resistant; unique, fast draining mesh design.  Directions: Place the mat in the tub and firmly press the suction cups down to secure.
You might want to also consider how close your area is to the basin or bathing area where you intend to wash your dog.  If you are doing the job inside the house will your dog be dripping water through the house?  Are you planning on using a dryer to dry off the coat?  You might find that the best place for clipping and grooming is your laundry area.  Have you got towels ready to hand and have you a cloth for washing the face?    Is the shampoo ready to hand?  You don't want to start washing him and then find you have left something in another room.  You might want to have cotton balls and ear solution, a range of solutions are available at Only Natural Pet Store, and clean your dog's ears while he/she is in the bath.
Cool N Dry Pet Shammy 17×27 Large
from: CherryBrook
The Cool N Dry Pet Shammy 17×27 Large literally loves water! This multifunctional dog towel cools your pet when it's hot or dries your pet when he is wet. The Cool N Dry Pet Shammy has a dimple texture on one side (for cooling) and a smooth surface on the reverse side (for drying). When it is hot: simply wet and drape over your pet or use as a cooling mat. Great for use after walks or competitive events. When your pet is wet: the Cool N Dry will dry your pet completely in a matter of seconds! And it doesn't drip! Use after baths, rain or snow showers. This extremely durable, hydrophilic sponge polymer towel has a reinforced center mesh which prevents the material from ripping or tearing. It can be cut with scissors for the perfect size. Machine washable! Available in assorted colors only.
Dog Grooming Apparel
Other handy items are either a waterproof grooming apron
which will protect you from getting wet or a nylon grooming jacket
, a great range available from Amazon.com, which will help prevent dog fur sticking to your clothes.
These dog grooming instructions are intended to assist you in getting your area set up in an organized way so you will find the job will be made a lot smoother and easier.  All your dog grooming supplies will be at hand and you won't worry about forgetting anything.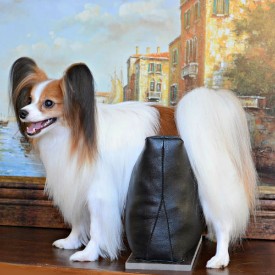 The Amazing Stand N Groom prevents your dog from sitting while grooming! This innovative product is gentle on the dog and allows the freedom to use both hands while grooming. Simply slide the Stand N Groom under your dog and groom as usual!
Prevents laying and moving around the table
Can be used with or without a grooming noose
100% leather with an acrylic base
Lightweight and easy to pack
1-piece sturdy construction

Available in black or pink
Mini: 7 1/2″ x 3″ base – 5″ tall center height – 6″ tall outer height
Small: 9″ x 4″ base – 7 1/2″ tall center height – 8 3/4″ tall outer height
Medium: 11″ x 5″ base – 8″ tall center height – 10 1/4″ tall outer height
Large: 12″ x 6″ base – 9 1/2″ tall center height – 11 3/4″ tall outer height