Flea and tick collars will go a long way to protecting your dog however they will not eradicate an existing problem and will not prevent them from breeding.  To eradicate an existing problem refer to our page on Dog Fleas.
Flea and tick collars are available in different sizes so be sure to buy the size which best fits your dog.  Generally, they will last a few months and some are not affected if they get wet.  Be mindful of the fact that these collars do contain chemicals so if you prefer a more natural approach to tackling a flea and tick problem then this might not be your choice.  Always check the information on the product before purchase, including any warnings or side-effects, and particularly if you are planning to put the collar on a puppy (some are not recommended for puppies under a certain age).
Check out the following traditional flea and tick collars which are some of the better products on the market!
In the USA:
Seresto for Large Dogs

Seresto for Small Dogs
 A flea and tick collar for dogs and cats that uses exciting, innovative technology to release the active ingredients in controlled doses over an extended period of time. This means effective long-term flea and tick control without the inconvenience of monthly applications. Seresto protects your pet from fleas, flea eggs, flea larvae and ticks for eight months. It is available in three formulation, small dogs, large dogs, and cats. It is non-greasy and odorless.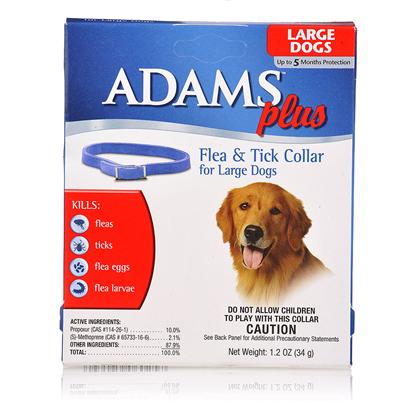 Adams Plus Flea and Tick Collar for Dogs Large Dogs
Using an insect growth regulator, this collar literally stops the flea life cycle in its tracks so your dog can stay flea free for the entire five months. Available in two sizes – small and large.
…Zodiac Flea & Tick Collar for Dogs, 25″
…Kills ticks including those which may carry Lyme disease; keeps working even when wet; kills ticks for up to 5 months; fits necks up to 25″.
Zodiac Flea & Tick Collar for Small Dogs, 15″
Kills ticks including those which may carry Lyme disease; keeps working even when wet; kills ticks for up to 5 months; fits necks up to 15″.
In the United Kingdom: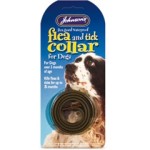 Johnsons Dog Flea and Tick Collar
Killing fleas and ticks for up to 5 months, this waterproof plastic collar is suitable for dogs and young pups over 12 weeks of age. Fits up to 24 in/60 cm.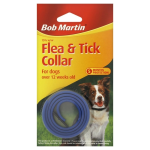 Bob Martin Dog Neem Flea Collar
Bob Martin Dog Flea collars are for the control of fleas and ticks on dogs over 3 months of age.  Gives protection for up to 5 months.  Not suitable for use on nursing bitches.
.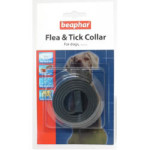 Beaphar Dog Flea Collar
Suitable for dogs and puppies over 12 weeks of age and effective against fleas for up to 4 months. This product is waterproof.
In Australia: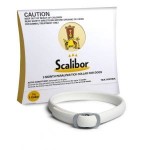 Scalibor 3month Paralysis Tick Collar
Scalibor 3 month tick collar is odourless & will last for 3 months against the paralysis tick & up to 6 months for the brown dog tick.  Suitable for use from 8 weeks of age.  Collar length: 65cm.  Do not immerse collar in water. Remove during bathing and swimming.  Due to the slow release, it can take between 2-3 weeks before the product reaches maximum effectiveness. It is recommended to apply the tick collar 3 weeks prior to taking dog to high risk tick areas, or using a tick preventative product in the meantime, for first time application or when the Scalibor is not continuously. For any animal using Scalibor continuously, the product will remain at high levels of effectiveness upon re-application of a new collar.  ***PLEASE NOTE: No tick preventative is 100% effective. Daily tick searching & immediate removal of any ticks found is highly recommended.***
.
.
.
.
.
.