If you want your dog to be well-trained and well-behaved then effective training supplies will be an absolute must.  As with dog grooming equipment there are many choices of training supplies on the market and these are available online or through the local pet shops or veterinary clinics so it is very much a personal preference what to purchase and where.  Puppy training equipment will differ slightly to that required by an older dog.  For example, a puppy will keep outgrowing a collar until it has become an adult and therefore collars and leads will need replacing regularly.
Training supplies can include anything from collars, leads and harnesses to clickers to toys to treat items.  As with grooming equipment, the prices will vary remarkably so it is a matter of choosing something effective and cheap is not always the best.  What you purchase will depend upon the size and breed of dog so it is recommended that you do some reseach prior to purchase.
Listed below are specific types of puppy and training supplies to assist you with further information.
Dog Collars and Dog Leads
A dog collar and dog lead for walking is something that every dog owner will need.  Ideally, if a dog has effective training from the start then there is no reason why anything other than a soft collar will be required for the whole of the dog's life.  However,  not all dogs have the fortune of having an ideal upbringing and thus they may develop some undesirable behavious that require special collars for training.  These include Martingale collars, halti head collars and special collars for sports training.
There are certainly collars that are not kind to dogs and can be quite harmful if used by a novice trainer.  These include chain choke collars, prong collars and electronic punishment collars.  These should only be used by an experienced dog trainer, however an effective and kind trainer would never need to use these as  they understand how to use other tools and methods which get far greater results.  You can find more information about the different types of collars on the Dog Collars page.
We recommend a high quality collar and lead such as those found at EzyDog.com.  They are designed not only for comfort but for ease of training, durability and come in a variety of types to suit your individual needs.
A quality lead for your dog is also essential.  Once again, there are so many  to choose from, however the larger the breed of dog the stronger the lead should be, with solid  metal clips.  A soft material lead is preferable to a chain lead as they are more comfortable to hold.  A chain lead will hurt your hands  and you won't be able to grip it so well.  Refer to our page Soft Dog Leads page for more information on these.  Alternatively, for a wider range of different leash types refer to our Dog Leashes page where you will find more information on each type.
Dog Training Bumbag or Dog Treat Pouch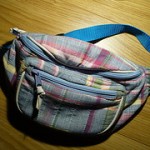 Whilst training your young puppy and even with walking older dogs, a handy piece of equipment is a treat bag or bumbag for carrying dog treats.  When training your puppy it is much more convenient to have easy access to treats so you can give immediate rewards for good behaviour.   Timing is critical when using rewards for desired behaviour and therefore if you have to fiddle with plastic bags then you may end up being way too slow by the time the treat is delivered to the dog.  Having treats kept in pockets can get smelly as well as messy and difficult to clean out, particularly if they are soft treats that are likely to get mushy or melt a little.
Specially designed treat bags clip onto your belt or they have a belt which clips around your waist.  They are made so they are easy to open and some have separate compartments for carrying any other personal items such as phone, keys, money, etc. as well as poo bags, and other puppy training tools, such as a clicker, whistle or small toy/ball if you use them.
Puppy Toys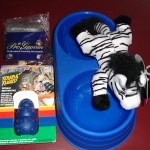 Toys are another necessity you will need to have on hand when puppy comes home. Squeaky toys can be useful when training as an alternative to treat rewards. Instead, if you are doing a little training with your puppy and he does some good work throw a toy as a reward and have a play with him/her.
Chew toys are a necessary part of your supplies, especially for those first 12 months or so when the puppy is growing and teething. By training him/her to chew these instead of your shoes, or whatever else might come his/her way, you can alleviate much frustration.
Water and Food Bowls
Not really a part of your puppy training supplies but a necessity to have ready for when puppy comes home to you. You might need to start off with smaller bowls and as your puppy grows larger then buy larger bowls.
Food Supplies
It is always best to be in touch with the breeder before picking your puppy up and check what food (see our dog feeding page) and/or supplement supplies the puppy will need. If you buy your puppy on the spur of the moment (not recommended) make sure you purchase all your puppy and training supplies so that you are prepared for when you get him home.
Bedding and Blankets
You will need to prepared for puppy's homecoming by having some soft bedding and blankets for him/her to lie on. It will depend on the breed type and size of your puppy as to what sort or bed you purchase.
We promote only the best in training aids and dog products – check out some of our favourites here!