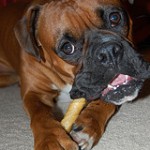 Chewing is a natural behaviour of a dog and is never a problem for the dog. It only becomes a problem for us when they chew on inappropriate items and personal belongings. Below are some ideas on how to stop your dog from chewing everything? Dogs, especially puppies at a young age, need to chew – that is a fact of life!
Why Does My Dog Chew?
Chewing is a part of the normal growth and development of a dog – helping teeth and gums develop properly as he/she grows into adulthood.
Puppies teeth around the four to five month age. Chewing helps the dog to get relief from sore gums during this process as well as enabling the baby teeth to fall out and the adult teeth to come through.
This chewing is necessary throughout the whole of the dog's life. Chewing on raw marrow bones helps keep their teeth and gums free from disease.
Destructive chewing can occur If a dog is in a stressful environment and chewing helps relieve them of that stress. The dog could be bored and if there is not enough mental stimulation then chewing is a way to pass the time of day. Or the dog may suffer from separation anxiety and chewing helps relieves that stress factor.
Dogs will always chew – it is dog owners who need to manage what their dogs chew on.
Dogs Chewing Toys
Does your dog chew destructively? Try these recommended chewing toys and set your dog on a pattern of acceptable chewing behaviour.
Dog Toys at PetSmart.com
Thick, natural rubber to provide your dog with a real chewing workout. Red toy is one tough toy – and a black toy is even tougher. Kong's revolutionary 'beehive' design makes it bounce unpredictably in every direction. Your dog will love his Kong Toy as-is, or as a special treat, you can stuff the hollow end with kibble, treats or peanut butter. He'll go crazy!! Water Kong comes with an attached throw rope.Kong's exclusive red natural rubber is puncture resistant, super bouncy, and chewer friendly. It is unmatched for resilience, durability, and bounce. Kong satisfies a dog's natural need to chew and also cleans teeth and conditions gums. The thick, flexible walls keep springing back for more! Kong rubber is non-toxic, nonabrasive, non-splintering, and does not get sharp when chewed. Kong toys are enthusiastically used and recommended by veterinarians, trainers, dog professionals and satisfied customers world wide.

All Natural Rubber
Puncture Resistant
Super Bouncy
Chewer Friendly
Cleans Teeth, Conditions Gums
Recommended by Veterinarians, Trainers & Dog Professionals


Dog Toys at PetSmart.com
Here's KONG's legendary, tough natural rubber in a ball designed to hold food or treats for added fun. You can even put dog toothpaste in the grooves to help clean teeth and gums as your dog chews and chomps. Irregular shape means it will bounce and roll unpredictably to keep your dog interested.

Dog Toys at PetSmart.com
Made of a soft, yet durable puncture-resistant material that withstands even the toughest chewers. The unique design allows for it to wobble and roll around on its own. It's great to use for preventing destructive boredom behaviors or to simply keep your dog happily occupied. Feed your dog his meal portions out of it or insert a Triple Crown Everlasting Treat. The Everlasting Treat Ball™ comes with two Chicken flavored Everlasting Treats™ (refills sold separately).Features:

Fill the ball with Every Flavor Treats™, dog food, or your dogýs favorite snack.
Increase the challenge by filling the ball and inserting one Everlasting Treat™.
Is your dog already an expert? Fill the ball and insert both Everlasting Treats™ your dog will have to chew through the caps before he gets to the goodies on the inside.

Size: Medium- 3 3/4″ in diameter.

Treat refills (sold separately) available in Liver, Chicken, Vanilla Mint and Barbecue flavors.

Dishwasher Safe.


Dog Toys at PetSmart.com
Your search for a tough, long-lasting chew is over! Nylabone Big Chews are designed to stand up to the chewing habits of the biggest dogs and the toughest chewers. They've been tested in clinics and kennels and have proven virtually indestructible. In fact, Nylabone offers a 100% satisfaction guarantee! Big Chews are non-consumable, to provide unlimited chewing satisfaction. Flavor is impregnated throughout the chew, meaning great taste for your dog from the first chew to the last.Non-toxic and veterinarian approved.Ingredients: Nylon,natural flavor.

Dog Toys at PetSmart.com
These super-strong Nylabones have been designed specifically for powerful chewers. Molded from virgin DuPont nylon, they are slowly cooled to toughen and reduce brittleness.Directions for Use:ASPCA seal of approval. Replace this product when it is small enough for your dog to swallow whole. Galileo can be washed in soap and water or sterilized by boiling. Do not throw in the air for your dog to catch. The impact may injure his teeth.Wolf (5.5″) is recommended for medium size dogs up to 50 lbs. If your dog is a particularly powerful chewer, you may opt for the Souper (7.5″) size which is recommended for large breeds over 50 lbs.
How To Deter A Dog From Destructive Chewing
Puppies
Use an errorless training management programme from the day you bring your new puppy home.
Confine the puppy to areas where you can observe what he is doing and don't leave valuables lying around.
Have a few chew toys available for the puppy at hand all the time. Make sure one of these toys has space for placing dog treats in it.
Play with the puppy often using the chew toys.
If you need to go out make sure that your puppy is confined in a safe, secure place where he is not able to be destructive and leave chew toys stuffed with treats.
Praise your puppy when you see him chewing his/her toys.
If the puppy does get a hold of something he/she shouldn't have, distract him/her with something which he/she can have. Teach the dog to 'give' by exchanging treats for what he/she has taken.
Older Dogs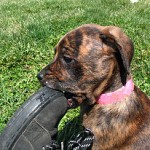 If you do catch your dog in the act of chewing something he/she is not supposed to have don't yell, scream or smack him/her – punishment does not work. Just simply offer him/her a toy or distract the dog by another activity and encourage him/her to play or chew that instead. Our toys page gives some great ideas on how to keep your dog occupied with chew toys.
Give your dog a raw marrowbone on a regular basis. This will keep him/her occupied for hours plus it's good for their gums and teeth.
By giving your dog attention, exercise and playing with your dog will help alleviate stress and boredom for you and the dog.
If destructive behaviours become habitual it is more difficult to correct as the dog gets older. It is better to manage the behaviour from when they are puppies to avoid these problems later on.
If you still have a problem after the above then you might like to try rubbing or sprinkling some vaseline, cayenne pepper, paprika on the things he/she is not allowed to chew. Dogs generally don't like these smells getting up their noses and hopefully this might help to stop him chewing your things. These are just a few ideas on how to stop your dog from chewing everything.