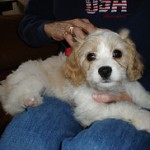 Dog grooming training is best if started from the day when you first bring your dog home. Start by getting the whole family involved with handling the puppy all over, including playing with the paws, looking in the mouth and also in the ears. Then get any visitors to do the same. This handling will go a long way to training your dog when it is time for his first clipping and grooming session. Even if you get a pup who doesn't need regular grooming and clipping, handling his paws will help down the track if the nails need clipping. Help your dog get accustomed to handling by as many people as possible from a young age and you will find he/she will be a lot less stressed, especially for those dogs who are going to need grooming on a regular basis. Your dog will need regular checkups at the vet so by training him /her for grooming all over will make things much easier when it comes to vet checks.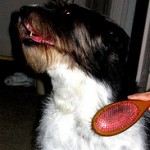 Start training your dog for grooming by getting an appropriate size and type of brush for his/her type of coat. Gently brush the puppy for very short periods of time but on a regular basis. Rub your hands down his/her back, around the stomach area, down the legs – get him/her used to being handled. Particularly, start getting the puppy used to grooming in the areas where matting tends to occur, i.e. around the ears, the tail, under the belly area and under the shoulders. Part of your dog's training should be with strangers. Give the puppy treats as you handle him so he associates the grooming and handling as a pleasant experience.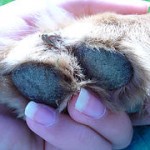 Another important aspect of grooming is to start training your dog for nail clipping. Start playing with the paws every day so the dog gets used to paws being touched. Young puppies have very sharp nails so you might want to get the dog training for this part of grooming happening from the beginning. If you acquire a small pair of nail clippers and start trimming the nails from an early age you will find that there isn't a problem later as he/she gets older. Have someone hold a treat (see dog treat recipes for some tasty treats) to distract the dog if he/she is wriggling. Your dog's mind should be focussed on obtaining the treat rather than the grooming.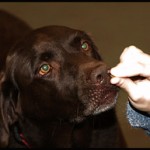 Be kind and use treats to reward the dog for the training he is doing and correct grooming behaviour. When he stands still while you brush, treat him/her. When he/she allows you to play with the paws, treat again. Make puppy training for grooming and clipping a pleasant experience. From a young age get your puppy used to the sounds of clippers and vacuum cleaners, hair dryers, etc. so that it won't be such a frightening experience when you finally come to clipping him. Commencing from an early age will teach him that nothing bad is happening to him/her and he/she will start to enjoy these dog grooming training sessions.