Dogs West (previously known as the Canine Association of Western Australia) offer the Canine Good Companion Programme! In a day and age when one hears mainly complaints about dogs running free and neighbourhood dogs barking in the early morn, it is heartening to learn that during the last 13 years, well over a 2200 dogs, have been taken to exciting dog training classes where their owners have learned to better understand their pets and have a lot of fun training them! These caring and responsible dog owners have taken the opportunity of attending our dog training sessions conducted by carefully schooled Canine Good Companion Instructors.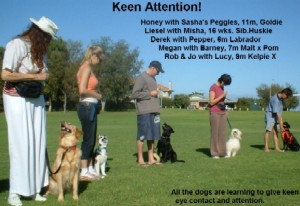 After nine weeks' intensive training, geared to develope the dogs' aptitude for everyday living, owners whose dogs  are able to demonstrate that they had mastered their basic obedience and social skills,  are issued a Canine Good Companion Certificate to proudly display to their friends!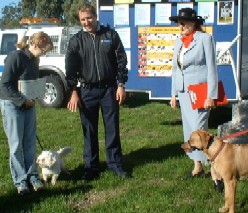 This training programme has proved to be a very good basis for future trouble free dog ownership. Our ideal class size is 12, with one Instructor and one Assistant Instructor. The Instructors enjoyed the challenges presented by the dogs of many breeds and of varying ages, each bringing with them their own parcel of problems or would be problems, easily prevented or solved with the right approach by the owner. In the City of Gosnells, the Council Rangers support the programme with a visit to talk about responsible Dog Ownership and the local dog laws and requirements, and a Councillor presents the CGC Certificate to the qualifiers.
A local veterinarian may also be invited to discuss everyday topics such as vaccination and worming of our companion dogs.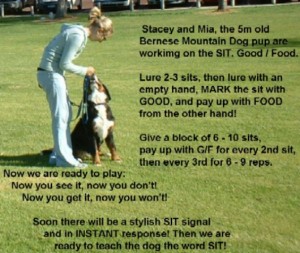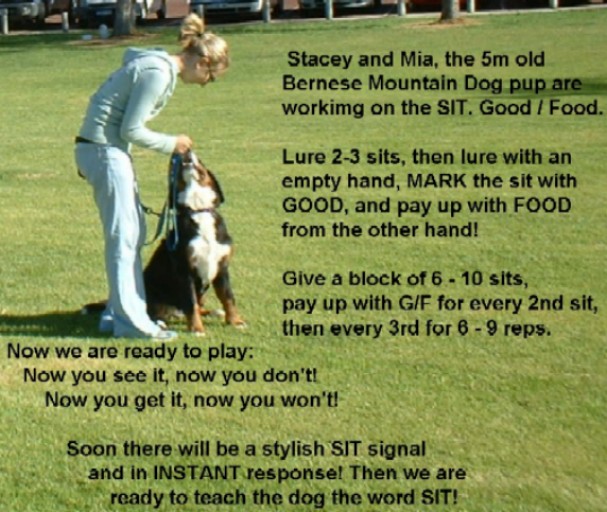 It is in the sphere of behaviour shaping that the Canine Good Companion Programme will benefit our dog owners. Good dog management and an understanding of which instincts and drives are in force when dogs behave or misbehave, will go a long way towards  creating a trouble free man – dog relationship! Even those owners who did not continue right through to the Assessment, and gain a pass, have gained great benefit in the way of managing their dogs and solving everyday problems.
Dogs West especially invites dog owners in the Cities of Joondalup, Wanneroo, Gosnells, and Spearwood to participate in this innovative motivational  Subsidized  dog training programme! $ 50.00 secures you 10 weeks of expert tuition and FUN with your dog!
Enrolment Day: Advertised in the local papers!
Join us on Enrolment Day, in Gosnells only for  your orientation session and our introduction to training with positive reinforcement!
Enrolment is followed by 10 sessions: Classes are held on Saturday mornings in Gosnells, and Ocean Reef and Thursday mornings in Spearwood.
Place: Western Australia
Lexcen Park, Venturi Rd. Ocean Reef;
Robinson Park, Corfield Street, Gosnells;
Dubove Park, Spearwood on Thursdays from 9.00 am to 10.00 am
Join us and:
Marvel at the ease,
With which your dog
Will learn to please,
With HAPPY TRAINING!
For further information please contact Rick and Honey on 9349 8431 for behavioural problems
Or email us on richardson@eftel.net.au
The difference between a Pet and a Pest is TRAINING!
Join us for HAPPY TRAINING!
IF YOU HAVE DOGS AND CHILDREN THEN THIS IS A MUST!
FIND THIS GAME AT Karen Pryor Clickertraining Store – under Animal Shelter Tools
If you have trouble finding this item on the site – Search for "Doggone Crazy"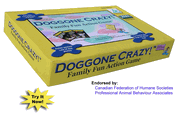 Dog bite prevention is the goal of the board game Doggone Crazy! Children and families will learn about dog communication, dog behavior, dog safety for children and how to prevent a dog bite. Through fun activities, photographs of real dogs and puppies and question cards, Doggone Crazy! promotes education and child safety. Doggone Crazy! is a highly competitive race around the board collecting dog bones. There are over 100 cards showing photographs of real dogs doing real doggie things. There are more than 60 different dogs and more than 40 different breeds represented in the cards.