COMMUNITY CONSULTATION & BENEFITS:
The Canine Association of Western Australia, the controlling body of all dog matters pertaining to breeding, training,  exhibition, and  organising all dog related sports events for companion dogs in W.A., is part of the ANKC and affiliated with the FCI.
The Association has a membership of over 3400 and is the largest representative body of dog owners in Western Australia.  The Association has developed an excellent working relationship with the Ministers for Local Government and Planning for those times when 'dog issues' arise and also attends the Joint Metropolitan Dog Control Committee, which meets four times a year.  The Association has also fostered good relationships with the RSPCA and the AVA.
Local government and vets have been consulted and participate by attending lectures incorporated in the course. There is a lecture presented by a Ranger on the Dog Act and Local Dog Law as well as a lecture presented by a local vet on worming, vaccinations and other health issues. Where not personally attending, flyers are presented by local veterinarians. This course offers an opportunity for dog owners to learn the necessary skills to keep a dog in a healthy condition and environment.
Improved behaviour of neighbourhood dogs: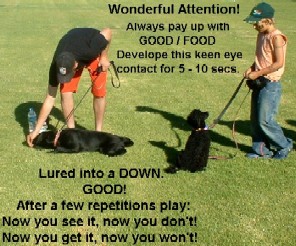 The community at large benefits from the availability of a  subsidised training course on dog management in their areas. Non dog owners and dog lovers alike will benefit from the improved behaviour of neighbourhood dogs.   Dog owners will achieve a working understanding of dogs in general and have available help with their problems.
Local government will benefit on the principle that success breeds success! 
There will be a display of greater responsibility towards dog ownership and overall better pet management in suburbia.
There will be a reduced number of dog attacks as the public is being made more aware of the dog psychology and more dog owners will learn how to prevent anti social and aggressive behaviour in their pets.
Owners of problem dogs will have access to training facilities and may be referred, by local government, to this programme in order to work on habitual offenders rehabilitation through behavioural methods.
Over and above all, our message is:
The difference between a Pest and a Pet is TRAINING!
We commend all participating City Councils on their foresight in sponsoring the Canine Good Companion Programme, thereby encouraging and promoting their Rate Payers' and citizens' civic responsibilities associated with dog ownership.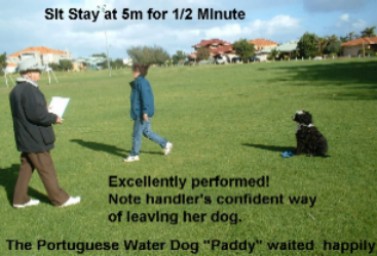 We invite  all dog owners to join up for a Canine Association and City Council sponsored course, and let us demonstrate the FUN of learning how to raise the family dog to be a model Canine Good Companion.
Canine Good Companions have been taught how to behave in public, they know where and when to play, and when to be sedate model citizens! Canine Good Companions will eagerly sit at their owners' side when they stop to chat with a friend on their daily walks! They come when called, sit when told.
These happy and well behaved dogs are enjoying the companionship of their people because both partners in this relationship have gone to school and learned how to live together in harmony, enjoying each others' company without driving each other and the neighbours crazy!
On this course, our dedicated, responsible dog owners learn how to teach their pooches, beloved family pets, of mixed breeds, pure bred and even registered pedigreed show dogs, to fit into life in suburbia and how to become better family pets, an asset to the community!
Over 1600 dog owners, living in the Cities of Wanneroo and Joondalup have taken the opportunity of attending these  reasonably priced training sessions in the last  thirteen  years,  whilst 700 dog owners attended sessions in the City of Gosnells in the last seven years, document the great success in this Region also.
Two years ago, the Canine Association also introduced the Canine Good Companion Programme to the City of Cockburn, and  classes were conducted in Spearwood, 150 dogs were trained here.
This programme is held on Saturday mornings and is  a ten week training course. Should the dog (and its owner) pass the official test they graduate and the dog is awarded the title Canine Good Companion. The owner can display his dog's diploma for good behaviour, the Canine Good Companions Certificate, which is in effect the owner's proof of good management.
By the end of the course, the participants will know how to achieve the following:
•    To get their dog to come happily every time it is called
•    To have their dog walking on a loose leash
•    Know how to have their dog sit and drop on command
•    How to help their dog wait calmly for you when left alone
•    Know  how to groom their dog
•    Have  their  dog calmly accepting friendly people approaching and touching it
•    Will have accustomed their dog to calmly accepting other dogs near it
On the last week of the course, the owners and the dogs will be assessed on what they and their dogs have learned, and will receive a Certificate or Progress Report.
The difference between a Pest and a Pet is training! Let it be Happy Training!