Please note: I may be compensated through the links in the post below, but the opinions are my own.
Nail clippers for your dog may or may not be a necessity.  Some dogs wear their nails down naturally through daily activity and running on hard surfaces while others have nails that grow long and need clipping back on a regular basis and this can be regardless of whether or not the dog runs on hard surfaces.  Clipping a dog's nails is an important part of a dog's grooming regime if they are not worn down naturally; if they are allowed to grow too long, not only do they become sharp and scratch easily, but they can lead to lameness and which in turn can cause leg joint problems, not to mention that the paws become hugely uncomfortable and painful.
If you do have a dog whose nails do need clipping then you will need to decide what type of nail clipper is the most effective and comfortable to use.  You can use the standard dog nail clippers, of which there are many varieties available to choose from or, alternatively, there are now more brands of grinding machines available powered either by battery or by electric power cord.  Or, you may prefer to file the dog's nails down using a special dog nail file.  It depends upon the type of nail, the length of added growth and how often clipping is necessary as to how much you might wish to invest in for a nail clipper and, to a certain extent, what the tolerance of the dog is to having his feet manicured.  If a young puppy is trained to having paws touched and played with, along with being introduced to nail clippers then you should not have any problems with doing this.
Before you start clipping it is recommended that you read our page on Clipping Your Dog's Nails and Dog Grooming Training.  It is important to help the dog feel as comfortable as possible so that there is no traumatisation from the experience.
Nail Clippers
There are basically two styles of nail clippers that you can choose for your dog – the guillotine style or a scissor style which come in small, medium and large sizes depending on the size of your dog..
Guillotine Nail Clippers
The guillotine type nail clippers are like those used to trim birds beaks.  The metal hole is placed along the dog's nail to the point where it is to be cut.  It is important to be aware that placing the clippers too high up the nail may cause the nail to bleed.  You then pull the handles together and they cause the metal ring to retract and the blade cuts the nail off.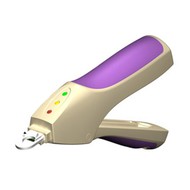 Quick Finder Nail Clipper for Dogs
QuickFinder Nail Clipper for Dogs is easy to use, simply insert claw and the QuickSensor light will turn green when it is safe to clip the nail. This stainless steel clipper gives a long lasting, sharp cutting edge to cut through the nail effortlessly. The non-slip handle is designed for maximum effectiveness and comfort.  If your dog has dark nails and you are not sure how far back to cut then this tool will tell you where to trim and thus minimizing the chance of making the nails bleed. Helps avoid cutting quick, capillaries and nerve bundles; for small sized dogs up to 40lb.
Gripsoft Nail Trimmer Jumbo Deluxe…………………..Mikki Guillotine Nail Clippers
From Vet Products Direct…………………………………….From Groomers-Online U.K.
Gripsoft is a quality brand of nail clipper.   ………….The Mikki Guillotine Nail Clippers are ideal
This is a great tool for large breed dogs …………….. for thick or tough nails.  They feature precision  
with thick nails, made for comfort and ……………….blades which have been heat-treated to offer
easy use at a very reasonable price.…………………….a smooth cut plus are strong and endurable.

.
Scissor Nail Clippers
The scissor nail clipper is just that – a scissor-style nail clipper and can sometimes be easier to use than the guillotine type clipper, however it is a matter of personal preference.  You place the scissor at the point of cut-off and then cut like you would when using scissors.  Most of these dog nail clippers are available now with ergonomically designed handles so they make it for easier and more comfortable handling.  Depending upon the size of the dog these types of nail clippers come in sizes from mini/small for small dogs, medium for medium sized dogs and large sizes for larger dogs.
…………………..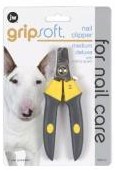 ……………………………………………….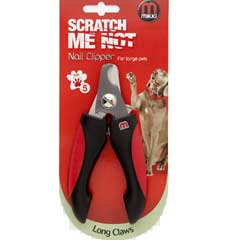 Gripsoft Deluxe Nail Clipper Medium………………….Mikki Heavy Duty Deluxe Nail Clipper
From Vet Products Direct……………………………………From Pet Planet U.K.
Gripsoft Nail Clippers come in……………………………..are designed for large dogs.
Large, Medium or Small.
Nail Files

A nail file may be something else you wish to keep in your dog grooming equipment box.  Sometimes after the nails have been clipped using nail clippers it leaves the edges of the nail with sharp flat edges.  A good quality nail file can be used to smooth and round off these edges to finish the job off properly.  Some of these have ergonomically designed handles for handling ease.  You may prefer to purchase a nail file which is dual-sided – one having a coarser side and the other side has a finer surface.  Why not consider adding these novel nail files to your grooming box?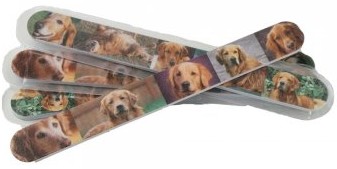 ………………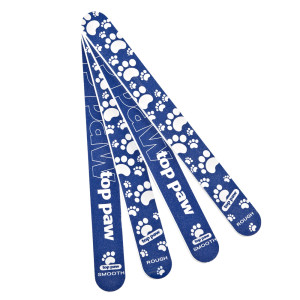 ……………………….
Warren London Nail File……………………….Top Paw Nail File
from Groomers-Online.com…………………from Petsmart.com
is specifically shaped to fit…………………….features a rubberized grip
various dog and nail sizes.…………………….for comfort and is double-
Ideal for keeping nails………………………….sided with fine and course grades.
healthy and free from sharp
or ragged edges.
..
Nail Grinders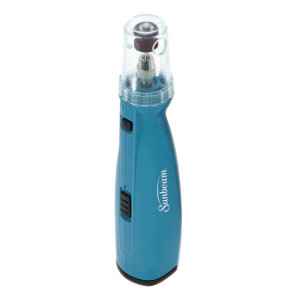 A nail grinder is an alternative trimmer to the nail clipper or file.  The dog's nail is placed gently against the rotating emery disk and it gradually files the nail down as far as you wish.  There are several varieties of nail grinder – some are electric and need to be plugged into a power point, others are battery operated and some come with two speeds.  As with any grooming tool, it is important to gradually introduce and train the dog to enjoy the experience.  Grinders can range in price, depending upon the brand and features.  Cheap is not always the best so hunt around and read the reviews on the products.  We have a few of the better ones listed below.
…………………………………………………………………Wahl Electric Nail Grinder
…………………………………………………………………is a mains-powered electric
………………………………………………………………….nail file offering a smooth
……………………………………………………………..finish.  It is lightweight and
………………………………………………………………..features 10 assorted
………………………………………………………………..attachments stored in the
………………………………………………………………..back of the unit.
Styptic Powder or Gel
It only takes a small twitch or movement from the dog just as you clip the nails and you may find that the nail has been cut too far back and starts to bleed.  If the quick has been cut into considerably then there will be quite a strong pouring out of blood.  If you have only caught the edge of the quick then you will find that there won't be very much bleeding at all.  It is always recommended that if you do regularly trim your dog's nails back that you have a container of styptic powder or tube of styptic gel on hand.  A little dab of powder or gel wiped across the bleeding nail will plug it up and stop the bleeding very quickly.  For more serious bleeding it may be necessary to use a little more than a dab.
Kwik Stop Gel and Kwik Stop Styptic Powder from Cherrybrook.com quickly and effectively stops the bleeding caused by nail trimming.
.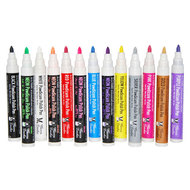 Beautify your dog with these dazzling nail colours from Cherrybrook.com!
  …………………………………………………………..………………………