Please note: I may be compensated through the links in the post below, but the opinions are my own.
Dogs need regular exercise so it goes without saying that the other essential item is a dog leash.  Once again, this is a personal choice and there is a huge variety to choose from depending upon the purpose of its use.  It may be necessary to have two or three different types of leads; for example, a longer nylon lead for general walking and a shorter lead for dog training or there may be a reason to have a tie out lead if the dog needs to be tied up for a short while or you might prefer to pay a little more for one lead which has multi-function purposes.   Here are some things that are important to consider prior to purchasing a new lead:
1.  Safety for yourself and the dog.
2.  Comfort for holding.
3.  How many dogs are you walking at any one time (you may have more than one dog).
4.  Size and breed of the dog you will be walking.
5.  Quality of the different types of leads .
As with dog collars, there are certain types of leads which are preferable and safer than others so this aims to give you enough information so you are able to make an informed decision about which is the most appropriate type of lead for your dog and lifestyle.  This site does not promote the use of extendable leads or chain leads and there is an explanation of the reasons for this at the bottom of this page.
Soft Leads
As there is such a wide variety of soft leads with different patterns, colours, sizes and designs for specific uses we have created a separate page for these – refer to our Soft Dog Leads page by clicking here.  Certainly if your dog is trained to walk without pulling then a soft lead is the ideal type of lead to be using.  Puppies can easily be trained to walk nicely on a lead and certainly the soft puppy leads are the best to start off with.  For information about introducing your puppy to walking on a lead please refer to our Puppy Training page.
Soft leads are easy to clip on and comfortable to hold in the hand and together with a soft collar they are non-threatening and non-harmful to your puppy or adult dog and therefore the aim should be to train your dog to walk without pulling so this type of lead can be the first choice.
Hands Free Leads
The hands free leash is an excellent one to have if you have a large and/or strong dog that has a tendency to pull or get reactive.  They are also perfect for people with neck or shoulder weakness or for those who are walking with a stroller or pram.  People who run or jog may find it easier using one of these types of leashes.
The hands free leash clips to a belt which fits around your waist or hips and the dog leash clips on to the belt.  By keeping the hands and arms free your body and weight is more centralised it means your balance will be a lot better and your core body strength is taking any pulling or jerking movements which could potentially throw you off balance.  Having the leash clipped to the waist also allows your hands to be free for training giving you the ability to teach more effectively and still having the dog under control.
Alternatively, look at some some of the Multi-Functional leads described below as they also include 'hands-free'.
Slip Leads
Slip leads are a collar and lead combined into one.  They are very useful if you compete in dog competitions and sports or if you show your dog.  The lead should fit through the "O" ring at the end to form the collar which is then slipped over the dog's head.  The collar then becomes tighter as the dog forges ahead however loosens when next to you.  When competing in any dog sport that requires the dog to work off lead this is easily slipped over the head and the dog is then free to work.  If you are interested in showing your dog, then special show leads allow the dog to run more freely next to you with minimal interfering with the natural conformation of the dog's proportions and coat.  They are also handy for putting your dog quickly on lead without having to fiddle around with clips.   Another added benefit of these is that there no chance of clips and rings breaking.
……………………………………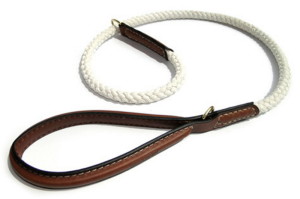 Waifs and Strays Slip Rope Lead from Groomers Online
The Waifs & Strays Slip Rope Lead is a well-appointed dog lead with solid brass furnishing. Hand-crafted in a combination of top grade leather and durable cotton webbing, this lead is made in a classic slip-lead style, with a large, practical hand loop. This Waifs and Strays lead offers the ultimate in security and comfort.
Waifs & Strays is an exclusive range of luxury accessories for the discerning pet owner. Using a palette of traditional colours including browns, blacks and brass, each item is hand crafted and made from the finest materials such as leather and suede. All creations from Waifs and Strays combine design and functionality. Equally at home in the city or the countryside, this brand offers consistently high quality products.
Product Features:  Quality dog lead in a classic slip-lead style; Features solid brass furnishings; Material: Leather and cotton webbing; Colour: Maroon or tan; Size: 120cm.
Dog Training  Leads
These leads are specifically designed for assisting you to train your dog and they come in different forms however generally they are much shorter than a normal walking lead which means the handler doesn't have to be fiddling about with holding the excess length.  The short length means you are able to train your dog to walk at your side or in the heel position as opposed to being able to pull out in front.  Some of the Multi-Function Leads can be used for shorter style training leads.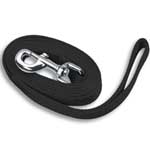 Ancol Nylon Training Lead
This Nylon Training Lead is fully adjustable with a ring that enables you to change the length of the lead to suit different training practices. The nylon will withstand the toughest of weather conditions and is easily wipeable. Known for its strength and its resistance to chewing and biting, this lead will endure session after session. Get the most out of your training with this quality product.
.
Show  Leads and Sporting Leads

If you have an interest in showing or working your dog in competitions then it might be beneficial to use a special training lead for the purpose of sport you intend to compete in.  Show leads are lighter and finer than a normal walking lead and have special features for showing your dog to maximum potential and control.  Check out these below:
Show training leads available at Cherrybrook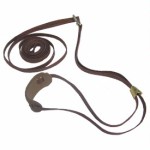 .
.
.

Braided Parachute Nylon Loop Lead (1/4 inch x 48 inches long) Tan

Braided Parachute Nylon Loop Lead (1/4 inch x 48 inches long) Tan
Lightweight and strong, these braided nylon loop leads are great in or out of the show ring.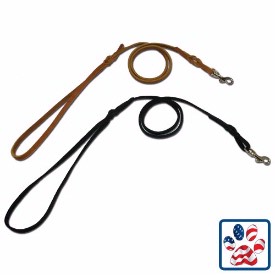 Cherrybrook Flat Leather Twist
Lead With Snap
Cherrybrook Show Leads are the finest quality. Designed to be functional without causing any distraction to the dog or judge.  These beautiful leather show leads feature a twist at each end; swivel bolt snap; soft on one side and smooth on the other;1/4″ thick; made in the USA
.


Parachute Nylon Lead / Martingale 54″ White (12″ Neck)

Nothing looks as good or lasts longer than this extremely thin yet amazingly strong material!This nylon has some elasticity to it yet is strong enough for dogs of all sizes.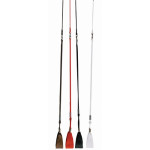 The ShowTech Silk Show Lead is quality lead ideal for dog exhibitors. Made predominantly from synthetic silk, this show lead features a wide chin support to help keep the dog's head up in the show ring. Ideal for all toy and small dog breeds.
Product Features:  Silk show lead with a wide chin support to keep dogs' heads raised in the ring; Ideal for all small and toy breeds; Colour: Black, red, brown or white; Size: 100cm (L).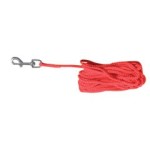 Tracking Round Braided Lead 10m
The Tracking Round 5m Braided Lead is a purpose-designed rope for using for optimal training and learning commands at a distance. It is also adequate for tracking and other times when it is suitable to give a lot of freedom whilst out walking. Your dog is still being controlled, but they can feel a greater sense of independence. The rope is made from round braided nylon that is strong and durable and it simply affixes to your dogs collar quickly and easily with a clipper. 10m length (approx 32.8ft) 5mm diameter (0.25")
.
Brace  Leads (Or Couplers)

Brace leads or couplers are great if you are walking more than one dog.  Instead of holding a separate lead for each dog and having the leads get tangled up a brace coupler is clipped on to the end of the lead and the two extensions attached to the collar of each dog.  This allows you to walk comfortably holding just the one lead and having each dog with a separate extension.  Most of the Multi-Function Leads incorporate the brace lead as one of the functions so you might want to check out those below.   If not, then check out these simple brace leads from Amazon.
Multi-Function  Leads
Multi-function leads are great if you have intentions of doing more than just walking your dog and you need a lead for different purposes.  Check out these below: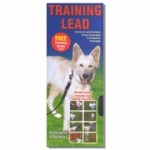 Recommended by Karen Pryor, Karen Pryor Clicker Training , this multi-functional lead with its snap hooks and rings is very useful—especially if you have a big, lively dog or if you routinely walk two dogs. Make a loop on one end and put the dog on the other and you have a long lead for distance work or recall. Or, quickly snap your end to a different ring to make a short leash for normal walking or heel training. Snap the ends to the collars of two dogs and walk two dogs at once; you hold on to the middle. You'll think of many more possibilities! Strong, soft on the hands, washable.  Both sizes are 78 inches long. Small: 5/8 inches wide with smaller hardware. Large: 1 inch wide with heavier hardware.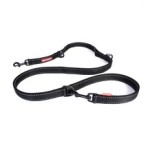 Versatile & Cool Dog Leash Vario 6 + Carabineer
The Vario 6 earns the title "Multi-Function" by working as both a single dog leash and a double dog leash while quickly converting to a hands free leash in seconds. This cool leash boasts EzyDog's own swiveling carabiner clasp for added strength.
Product Features:  Easily converts from a 5 ft. leash to a 3 ft. leash in seconds; EzyDog's own unique swiveling carabiner; Use as either a single dog leash or a double dog leash; Use as a hands-free dog leash; Transforms into a traffic lead with one snap; High visibility light reflective webbing; This is an extremely strong and durable leash; Color Options: Red, Black.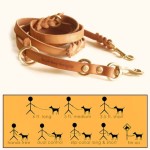 Leather 6′  Multi-Function Leather Leash
This European style, multi-functional, leather leash from Bold Lead Designs is so versatile! It is sturdy yet supple.
8 Ways (at least!) to Use this Multi-Function Leash!: Makes a 6, 4 ½, 3 ½ foot lead, a hands-free leash, temporary tie-out, two-dog leash, dual-attachment leash, temporary slip leash (for safety Pet Expertise does not recommend the use of a slip-collar for routine walks as it can cause injury to the dog's neck).  It can be shorted or lengthened at any time or used as a hands-free leash by placing the leash over your shoulder. For dual-control, you can connect one end of the leash to a harness or head collar, and one to the regular collar. Perfect for use with head collars or dual-attachment harnesses. Check out the illustration to see what this leash can do!
Handmade in the USA of USA vegetable tanned leather and solid brass hardware: The golden tan brindle Leather is 100% American vegetable tanned leather, made with NO dyes or toxic metallic chemicals. Reminiscent of fine English horse tack, this leather is superior in quality to any other leash you've seen. Every leash is hand-oiled to bring out the softness, so your leash arrives supple and feels great in your hands immediately and only improves with age. The color will darken with use and age.
Lifetime warranty! Made of only the best and most durable leather that is always soft to the touch and only improves with age. All edges are beveled for a smooth feel. Top quality hardware assures strength and durability. Comes with a manufacturer lifetime warranty! Please note that damage due to chewing is not covered by the warranty and some dogs do like to chew leather so keep an eye on that pooch and maybe add some Bitter Apple spray.
Great for sporting dogs, obedience training, service dogs, and everyday use!
Specifications: The 8- Way Lead is approximately 82" end to end with a brass leash snap on each end. It has 3 fixed rings, and one loose ring. This leash does NOT HAVE A LOOP HANDLE, rather it has a leash snap at each end so you can use the leash in any configuration.
CHECK OUT THESE OTHER MULTI-FUNCTION LEASHES FROM PET EXPERTISE!
 Bicycle  Leashes
Bicycle leashes are specifically designed so that your dog can accompany you when you ride your bike however before purchase make sure that you research one that is going to be suitable for your needs.  They can range in price from anywhere between $10.00 and $150.00.  Before going ahead and purchasing one you might want to consider the following:
Where are you going to be riding?   Is it going to be on busy cycleways where people are passing you constantly and near traffic?  You may require a shorter length so the dog stays closer to your bike.  Even two feet might be too wide a distance from the bike.
How fit is your dog?   Make sure your dog is fit enough to keep up by building up the endurance gradually.  Be mindful of the fact that dogs naturally run fast in short spurts and then rest.  Give your dog regular breaks to stop, sniff and enjoy his run and always have a water bowl or container with you.  Make sure if you are biking on bitumen or pavement or any other hard surface that this is not going to hurt the dog's pads.
What size dog do you have?  Ensure that the bicyle walker is going to fit your dog comfortably without choking him as you ride.  Make sure he is able to keep up with you and get him used to it by practicising in your yard or somewhere quiet first.  Start off slowly and for short periods of time and build it up as he gets more used to it.
Is your dog a puller, easily distracted or reactive?  You may want to think twice if your dog has any of these tendencies, ie. inclined to dart off after a bird, duck or squirrel.  You don't want him pulling you and the bike over.  Or if he has a tendency to be reactive when people or other dogs get too close then it will be difficult to get enough space between you to diffuse the situation.  Once again, you don't want him pulling you and the bike over.
What sort of bike do you ride?  It is important to get a good quality attachment that is secure and safe for your dog and going to fit well (without having to tighten bolts and parts on a regular basis) to your bike.  Make sure it can be unattached easily, just in case there is an emergency and you need to get your dog released quickly.  It is important to get a product that is going to be suitable for your bike.
And lastly, read reviews of the product you are considering to see if any of their comments may be a concern for you.
Reflective  Leads
Reflective leads are great if you are going to be walking or biking your dog in dim light or dark, either before sunrise or after sunset.  This allows you and your dog to be seen by motorists, cyclists and other walkers.
Some of the Multi-Function Leashes have a reflective thread through them however the following are the best we can find: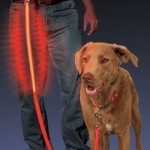 Nite Dawg LED Light-Up Dog Leash (www.clickertraining.com)
When you're walking or running your dog before sunup or after sundown, you sometimes worry that other people and cars can't see you coming. Unless, of course, you're using the Nite Dawg LED Dog Leash. With its 18-inch flexible, LED light-transmitting polymer core and a reflective stripe for passive reflectivity, this leash makes both you and your furry friend's presence obvious to everything on-coming, from dusk till dawn.
Made of high-quality, durable nylon and measuring 5 feet in length, the Nite Dawg leash features a weather-resistant, enclosed switch that allows you to choose illumination modes (glow or flash). Its efficient LED has a life of about 100,000 hours, and a replaceable 100-hour battery is included. Secured to your dog's collar with its strong, rotating spring clip, this leash provides visibility through endless late-day, late-night, and early morning outings. (Doubly effective when paired with the Nite Dawg Collar.)
Product Features:   Bright Red LED Illumination; Reflective stripe adds passive reflectivity; Glow and Flash Mode; Battery run time – Glow mode: 75 hours, Flash mode: 100 hours; Easily replaceable 1 x 2032 3V lithium battery included; Features high quality red webbing; Leash is 5′ long with 18″ of LED illumination.
This Flashing Reflective Dog Lead features both a reflective strip and flashing LED lights through the entire lead length. Ideal for use at night, this lead is visible up to 300m away. Made from strong nylon, the lead is also water resistant.
Product Features:  Reflective lead with built-in flashing LED lights; Water resistant; Batteries included; Size: 119cm (L) – also available is the separate matching flashing reflective collar.
Lazer Brite Dog Collars and Leads are three times brighter than traditional reflective collars to enable dogs to be seen at night. They are visible to approaching motorists from critical braking distance up to 600 feet! Lazer Brite Collars and Leads use the same 3M Scotchlite reflective material that is used by safety professionals including fire fighters, law enforcement and construction workers! 5-8 inch width is available in four patterns and colors and made in the USA.  This range comes in different lengths and widths.  Check them out here!

The Ancol Reflective Dog ID Tag is easy to fit and can help to identify your dog if they stray or are lost. Simply write your name and telephone number with a permanent felt tip marker pen, then place the provided self-adhesive cover over the area to seal. Reflective for extra night-time safety.
Tethers or Tie-Outs
A tether or tie-out lead is one that is longer in length and which you can use to tie the dog to a pole, tree or whatever is secure so that he won't run off.  Tethers can be used for indoor potty or toilet training as an alternative to using a crate.  These types of leads are generally made of metal cable so that the dog is not able to chew through it should he be left alone and they are available in different lengths and strengths.  If you know that your dog will not chew through a lead then some of the multi-function leads listed above can be used for tying the dog up however if you have a strong chewer then it might be wiser to look at getting the metal cable leads.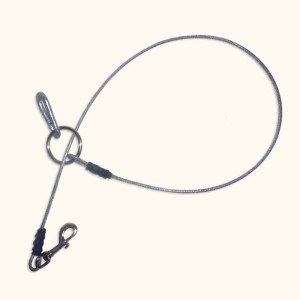 Chew-Proof Indoor Tether for Dogs
A professional dog trainer favourite!  Gets your dog out of his crate and with you while still under control as he learns how to behave.  A must-have dog training aid for:   house training / housebreaking; preventing destructive chewing; teaching your dog or puppy not to nip people (move out of reach when he nips and stay with him when he keeps his mouth to himself); teaching your dog not to jump up on people (move out of reach when he jumps and stay with him when he has four paws on the floor); can be used as a time-out area when your dog misbehaves.
This is:  easy to loop around a piece of furniture or attach to a hook in the wall; resists chewing and tangling and plastic coating helps protect furniture; convenient for travel; the dog will relax best on his tether with a comfy place to lie and a chew to work on.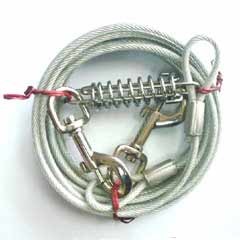 Barkshire Tie-Out Cable and Barkshire Tie-Out Stake from Pet Planet
 This Barkshire Tie-Out Cable is a great way to give your dog controlled, secure access to your garden, or when you are out and about. The convenient trigger clips make it easy to connect your dog to a ground anchor, spiral stake or a post, keeping your four-legged friend safe and secure whilst still allowing the freedom to move around.  Made from stainless steel, this is a strong tie out cable with a built-in shock absorber for if your pet suddenly runs to its full length so you can be assured that this will prevent your dog from injuring his neck. It is also a very handy item to take with you on camping holidays with your pet.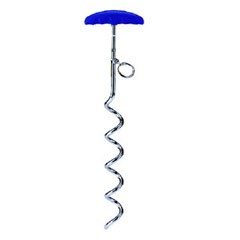 Anchoring firmly into the ground, just attach your dog's lead or tie-out cable to this Barkshire Tie-Out Stake to allow your pet the freedom to safely roam around your garden. Its spiral design ensures that a cable will freely rotate without getting tangled up. Made from iron with chrome plating, making this tie-out stake strong and secure, it is an excellent way to secure your dog outdoors. It's also handy to take with you on camping holidays or outdoor trips with your four-legged friend, or for whenever your dog needs to be temporarily secured.

Better Tether
 This brilliant Better Tether for Dogs is an in-ground pet stake with food and water bowls. It provides a more humane and convenient way to tether your canine friend outdoors and stands out in a highly visible orange colour. The dish contains two separate compartments, providing your dog with a constant source of food and water that cannot be spilled.  Securely anchored in the ground, the dish is impossible to trip over and it sits under a lawnmower's reach. You simply dig a hole, insert the ground spike, click the bowl into place and then just attach your dog's leash to the Better Tether's base; and supply food and water, of course!  It is a great way to give your dog controlled, secure access to your garden and is especially handy if your dog has a tendency to go off exploring the neighbourhood. It is also a very useful item to take with you on camping holidays with your pet.
Extendable Leads
As stated above this website does not promote the use of extendable leads because of the potential dangers that can occur around them.  Here's some of the reasons why:
1.  People think that because the leads are retractable they will be able to quickly pull their dogs in closer to them if the situation arises.  The problem arises that as the dog pulls the lead can be extended fully.  In order for the lead to be retracted there needs to be some slack.  If the dog is pulling then there will be no slack to reel it in.  It then requires the handler to run closer to the dog in order to get that extra slack to wind it in.  This requires some quick manoevering of the hand to unlock and lock continuously in order to get the dog closer.  The locks can also pop and fail if a dog lunges too hard against the lead.
2.  If a dangerous situation occurs while the dog is fully extended on one of these leads it will require a very quick response from the handler in order to get the dog back.  More often than not, human responses are not quick enough to avoid such situations.
3.  The further the dog is walking in front and the lead is extended the less control the handler has.  If the dog has full extension then this could mean that he has six feet of distance between them.  Some potentially dangerous situations could be that the dog darts onto the road in front of an oncoming car or there could be another dog approaching and the potential for a fight.  Something could spook the dog and it could lunge and pull the handler over.  The handler's reaction and response time is going to be too slow to avoid these dangers.
4.  These plastic handles are not as secure to hold on to as a fabric or softer type handle.  If the dog suddenly lunges or pulls and takes the hander unawares then the lead has been dropped and the dog escapes or the jolt could damage the handlers fingers, hand or arms if the pull is strong enough.  Even little dogs are capable of pulling strong enough to injure the handler.
5.  The cable or cord can be a huge problem also in that it can cause bad friction burns and deep slashes to the skin.  There have been many, many instances where the cord has gotten caught around the legs or arms of a person and cause serious injury, some as bad as requiring amputation of fingers through dogs running and playing.  The other danger is not only to the handler but to others who may be passing by.  Cords are not always clearly visible and if they cut across the path of a runner or cyclist then this will result in a nasty accident.
Extendable leads may be appropriate in certain circumstances however if you are going to use one make sure that you have good control of your dog without the use of a lead, ie. train the dog to walk without pulling and make sure the dog will come to you when called.  For general walking where there is traffic, people, bicycles and cars, then these types of leads are not recommended to the general pet owner.
Chain Leads
We also do not promote the use of chain leads.  These are less common nowadays anyway however it is worthy to mention these.  The problem with chain leads is they are very hard on the hands and cannot be handled as comfortably as the fabric or softer leads.  It is easier for the chain lead to slip through the hands which results in the dog escaping and therefore the handler has less control of the dog.
.
.

.