Use this information to assist you in making the best choice of collar for your dog's needs.
.
Soft Collars
Soft collars are generally made of nylon or material and there are thousands of different varieties and patterns to choose from.  A normal soft collar simply fit around the dog's neck and either clip on or buckle up.
If you are purchasing a puppy then this is the recommended type of collar to use and work with.  At first the puppy will feel uncomfortable with this foreign object around the neck,  so it is recommended that you start training your puppy to accept having the collar on by placing it on for very short periods of time and gradually increasing  the length of time as the puppy becomes more used to it.
Fitting the Soft Collar:  No matter what size puppy or dog a soft collar needs to be purchased according to the size and then fitted correctly.  If the collar is too loose the dog could get caught on something and this could be potentially harmful.  If it is too tight the dog will be very uncomfortable and this could also be harmful.
The way to fit the collar properly is to place and clip or buckle it around the neck.  Hold two fingers together and rest them perpendicular against the dog's neck and under the collar.  The collar should allow these two fingers to fit comfortably between the neck and collar.  If the collar is still loose over the fingers then it needs tightening; if it squashes your fingers then the collar is too tight and needs loosening.  When you pull your fingers out you will see that the collar is comfortably fitted.  Double check by trying to slip the collar over the head – it should not be possible to get it over the head without unclipping it.
.
Martingale Collars
Martingale collars are similar to the normal soft collar however they have the two metal rings with another smaller separate material loop.  This smaller loop holds the lead attachment.  When the lead is attached this smaller loop tightens as the dog pulls forward and loosens as the dog eases up.  The pressure on the dog's neck is much less forceful than that of the choke collars.  Because of its design it is not possible for a dog to slip out of one of these collars.
Fitting the Martingale Collar:  These collars are fitted the same as the soft collars.  Place the large loop over the dog's head so it fits around the neck.  Then adjust to fit your dog's neck comfortably.
.
Slip collars are ones that simply slip over the dog' head.  Similar to a choke chain in style, the only difference being that these are made of nylon rather than having a harsh chain around the dog's neck.   They have no buckle or clip so there is nothing to adjust and, therefore, remain loose until the lead is attached.  It is for this reason that these types of collars should not be left on the dog as the dog could easily get caught on something and choke; they should only be on when training or walking.  These collars are particularly useful if you are training your dog for sports competition.   Check out the range of sizes and colours at Amazon.com
.
Gentle Leader Head Collars
These types of collars are generally used on adult dogs who are strong pullers and have not been trained to walk nicely on a lead.  You would never

use one of these on a young puppy – there are much kinder ways to train a puppy to walk nicely on a lead without pulling.
Gentle Leader collars come in a variety of styles, however the basic principle is that they fit over the head behind the ears and across the bridge of the nose.  Some clip to the lead via a ring which hangs off the nose strap and others have the lead attachment at the back of the dog's neck.
These collars are not normal collars and must be used with care as any sharp yank or movement can whip the dog's neck around and do some major damage.  All movements with a collar of this sort must be done in slower and wider circular turns.  It is strongly recommended that before purchasing one of these types of collars you seek advice from a professional dog trainer and get proper instructions on how to use it. You will find a variety of sizes and colours for the Premier Pet Gentle Leader Quick Release Head Collar at Amazon.com
.
Other Collar Types

As well as the more common type of collars for your dog there are other types of collars which can be very useful.  Check these out:
Made of high-quality nylon, this lightweight, durable collar houses a flexible, light-transmitting polymer core that illuminates a flash or steady glow when the collar is turned on. Powered by a super-efficient (100,000 hour) LED bulb, the Nite Dawg illuminated dog collar is perfect for biking, camping, hiking, exercise, hunting, travel, or general outdoor safety. It's literally a brilliant way to keep your dog safely visible—to you, to other people, to cars—during any late-day or early-morning outing.
The collar comes in three adjustable sizes. Small: 10-13 inches, Medium: 13-18 inches, Large: 18-27 inches.
Personalized Adjustable Nylon Dog Collars
Unique touch-lock clasp for opening and closing ease. Personalized Adjustable Nylon Dog Collars made exclusively for Petsmart.
.
.

The Infin8 Halter is a radical rethink of what a halter can be. A Complete re-design, combining a figure 8 with a martingale collar to create a completely new halter where the pressure across the nose can be adjusted, or faded completely to eventually work just as a collar. This is a brand new training tool – starting with a halter and ending with a dog on a collar. The Infin8 attaches to the lead at the back of a dog's neck, the dog feels any slight pressure from the lead across the bridge of its nose and on the back of its neck. Only slight pressure is required as the Infin8 Halter is extremely effective in calming a pulling or boisterous dog, without the need for harsh corrections, or gruff training techniques. Size 5- Malamute, Large Golden Retriever, Great Dane, Rottweiler.  Available from Vet Products Direct Australia.

…………………………
..Snaps Collar from: Golly Gear,
Golly Gear especially for small dogs!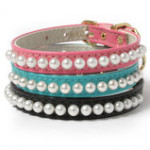 Dress your dog up!  Check out this great range of gorgeous sparkle collars from Muttropolis!

Chain Collars
Chain type collars are not nearly as popular as they once were, simply because our knowledge of dog behaviour and training now incorporate much kinder  methods of co-operation between man and dog rather than on principles of force and punishment or correction.  Chain collars should never need to be used and there are many more experienced dog trainers who utilise gentler methods of training.  If it is recommended that you use a choke chain or metal prong collar then you would be best to find another experienced trainer with different training methods.
Choke chain and prong collars can do enormous damage to a dog's neck and spine if not used correctly.  For this reason there are no links to these types of products on this website.
Electronic Collars
These are categorised the same as chain collars.  In the hands of a novice trainer a lot of damage can be done to the dog, not only physically but mentally as well.  When used incorrectly these devices can ruin the relationship between dog and owner.  These devices should be left for the professionals , and even then an effective dog trainer would never need to use a device like this.