Rakes
Dog grooming rakes are a great tool to use for large thick coated dogs such as the Alaskan Malamute, Akita, Siberian Husky or any dogs who have long or thick coat.  The rakes have teeth designed to strip the dead and shedding undercoat out of the dog leaving the top outer coat undisturbed.
These tools will prevent your dog's coat from clumping up and keep it looking in top condition if used regularly.  Once again, you need to determine what style of rake is best suited for your dog.  We have listed a few of the different types below.
The Ultimate Grooming Tool – The perfect tool for thinning, dematting and stripping.
Dramatically reduce undercoat, quickly, easily, and comfortably. The perfect tool for thinning, dematting, and stripping. For best results start with the coarse and medium tools to prepare and demat the coat, then use the fine tools to strip and finish the coat. Achieve a flawless, hand-stripped, smooth look with less time and effort. Great on all types of coats. Includes many innovative new features: 4 Comfortable, contoured handle 4 Non-slip rubber grip 4 Easily replace blades in one simple step with replacement blade cartridges Double wide sizes available for working on larger areas more efficiently Rounded teeth ends for safety.
MARS COAT KING




GRIP SOFT DOUBLE ROW UNDERCOAT RAKE

MARS Coat King Home Line No 10 Blade:- dematting and thinning rake for breeds with fine to medium coats. Eg Lhaso Apso, Shih Tzu, Golden Retreiver etc. Also good for medium to long haired cats.MARS Coat King Home Line No 19 Blade:-great grooming tool for Cocker Spaniels, Cavaliers, Springer Spaniels and dogs with similar grooming needs.

MARS Coat King Home Line No 7 Blade:-

wonderful Grooming tool for Keeshonds, Old English Sheepdogs, Samoyeds and other thick coated breeds.

Double rows of stainless steel teeth remove dead or shedding hair from the innermost layer while leaving outercoat undisturbed. Soft rubber sheathed handle gives you a non-slip, comfortable grip. Finger-fitting contours of the handle increase your comfort and control. Used by professional groomers. Tips from Addie the Groomer in proper use of this tool: Your dog's skin is sensitive. To avoid harmful scratching, you'll want to keep the handle of the rake slanted upright while you lift out dead and shedding hair from the innermost layer of your pet's coat. Use this rake on breeds such as collies, shepherds, shetland sheepdogs, retrievers, setters, pomeranians, pekingese, medium and long-haired mixed breeds.
Shedding Blades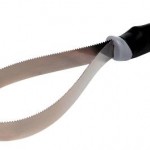 A shedding blade is a circular metal blade on a handle which jagged sharp edge on one side.
This tool has a gripsoft handle which makes it easy to hold and use.  Available are the large sized shedding blade which come in small size or medium size.