All puppies and dogs need to chew and some chew more than others so these chew toys are a great way to keep them happy whilst keeping you happy that they are not chewing on things they shouldn't be.  Most puppies and dogs will enjoy their chew toys a lot more if there is an enticement and most chew toys are now designed so that food or pastes can be inserted inside to keep the dog's interest in the toy.  Once upon a time the only type of toy was the hard rubber Kong Toys however there are so many different types and shapes now. Some brands are better quality than others and don't last very long.  When you are looking for chew toys look for something of quality, that is solid and going to last a while.
Kong and Premier Pet Busy Buddy Toys are the best quality you can get – they are tough, durable and your dog will have endless fun with them!  If you're not sure what is the best toy for your dog you can find out more information from their own websites, although you won't be able to buy products from them directly.   For Kong products go to www.kongcompany.com.  For Premier Pet products go to www.premierpet.com and view the video demonstrations.
Kong Toys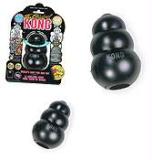 To view the large range of Kong products:
In the USA:  Visit PetSmart, www.petsmart.com or Active Dog Toys, ActiveDogToys.com
In the UK:     Visit Petplanet, www.petplanet.co.uk.
In Australia:  Visit Vet Products Direct, www.vetproductsdirect.com.au (and search for Kong Toys)
 .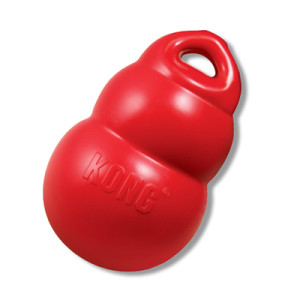 The Kong Bounzer from www.clickertraining.com: Dogs will love to bounce, roll, and play with this exciting new toy from KONG! The KONG Bounzer looks very similar to the classic KONG, but it compresses when grabbed by the dog, releasing air, and then bounces back to its original shape. The top handle makes picking up and tossing even easier. Perfect for games of fetch and retrieve or self-play.  Product features:  Squeezes and compresses; Made of lightweight, flexible material; Includes handle for easy play and tugging.
 ….
If your dog has given up on other treat dispensers, the KONG Wobbler, from www.clickertraining.com, is sure to be a smash hit! Given "four paws up" by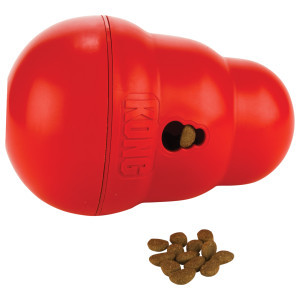 early testers, the KONG Wobbler dispenses treats more easily than many other treat dispensers. Fill the Wobbler with your dog's favorite treats and let the fun begin! With its weighted bottom, the KONG-shaped food-dispensing toy wobbles, spins, and rolls, but never falls down. Dogs learn quickly that motion causes treats to fall out, but the unpredictable movement will keep even the most seasoned Wobbler users guessing!
The Wobbler is a fabulous toy for playtime, providing challenge and physical activity the whole family will enjoy. It also presents an excellent alternative to the traditional food bowl, extending the joy of feeding time and preventing unhealthy gulping. Rambunctious puppies and hard-to-please older dogs alike will jump at the chance to get their dinners from the Wobbler!
The Wobbler is made in the USA of durable, FDA food-approved high-strength polymer. Unlike many treat dispensers, the Wobbler top unscrews for quick filling and easy cleaning, and is top-rack dishwasher-safe. With "one size fits all" sizing, the KONG Wobbler is suitable for all dogs weighing 10 pounds or more.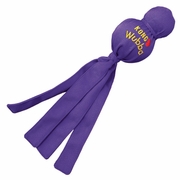 The KONG Wubba, available from www.clickertraining.com, was recently recognized as one of the best new dog products at Global Pet Expo, America's largest international pet industry trade show. KONG Wubba is a fun, interactive toss and tug squeaker toy. The Wubba is made with durable reinforced nylon and comes in five different colors and three sizes to accommodate most breeds. The durable rubber squeaker and long tail will keep your dog entertained for hours.
 Kongs for Puppies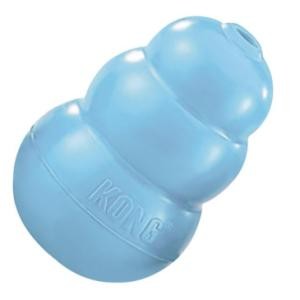 These puppy kongs from Vet Products Direct are specially designed for your puppy's growing teeth and gums.  It is always best to supervise your ….puppy's use of this toy.  They come in Small, Medium and Large sizes.  Vet Products Direct is based in Australia however payment can
be made in ….Canadian or American Dollars or Euros and British Pounds.
Why not use the KONG Stuff'N Puppy Snacks
which will make your puppy's KONG toys even more irresistible with these tasty add-ins. Choose mini for small puppies and large for large puppies. Both come in a delicious chicken and rice flavor
OR
KONG Stuff'N Ziggies Puppy Treats
  We all know how puppies like to chew, so it's important to start them down the right chewing path. These are made for puppies and fit perfectly into a chewer's best friend, KONG toys!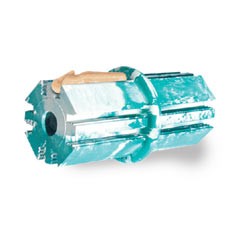 KONG Stuff'N Puppy Easy Treat Paste
– Your puppy will love this chicken liver paste which has been especially formulated for your puppy's sensitive tummy.  Perfect to be squeezed into the grooves of the Puppy Teething Stick.
  Kong Treats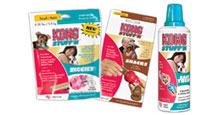 Kong Treats, available from Petsmart, are made especially for the use with Kong Toys and other treat toys.
KONG Stuff'N Peanut Butter Easy Treat Paste
;  KONG Stuff'N Liver Flavor Easy Treat Paste
;  KONG Pepperoni Flavor Easy Treat Paste
; KONG Stuff'N Bacon and Cheese
– These pastes are designed especially for use with KONG Toys (sold separately). KONG Stuff'n Paste makes KONG stuffing easy! Simply apply a small amount to the inside surface of a KONG Toy or in the grooves of a KONG Dental Toy to keep your dog busy and content. Pastes also work great for training or as a tasty anytime treat. The tasty peanut butter flavored paste is specially formulated for adult dogs and contains no peanut oil.
KONG Ziggies Treats; KONG Stuff'N Peanut Butter Snacks
; KONG Stuff'N Liver Snacks
and KONG STUFF'N Bacon & Cheese Recipe Snacks
are all natural flavoured treats which are designed to be stuffed into Kong Toys.  Your dog will love the natural flavours of the treats and playing with the toy at the same time!
KONG Stuff'n Mini Snacks
can be one of the best treats you can give your dog in the summer – crumbled mini snacks mixed with one of the tasty KONG pastes.  Smear it inside a KONG toy and then put it in the freezer for an hour. Too cool!
.
.
Busy Buddy Toys by Premier Pet
To view the large range of Busy Buddy Products:

In the USA:  Amazon, www.amazon.com
   or
Active Dog Toys, ActiveDogToys.com
In Australia:  Visit Vet Products Direct, www.vetproductsdirect.com.au  (and search for Busy Buddy)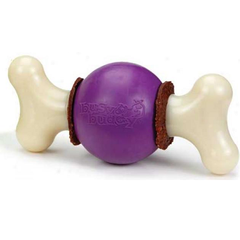 Stimulate your pet with the interactive Bouncy Bone toys. The design of the durable nylon bone & rubber ball provides dogs with an extended chewing experience – irresistible Gnawhide® treats last longer than giving treats alone & dogs are stimulated to chew the toy well after the treats are gone. Toy unscrews to load treats and clean. Comes packed with three sets of treats. Additional Gnawhide treat rings sold separately.  Recommended for strong chewers. Available in 4 sizes.   Available in all 4 sizes from Muttropolis, www.muttropolis.com.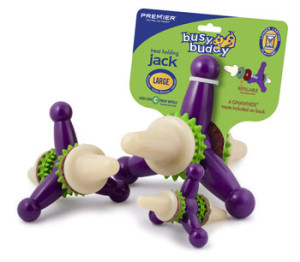 Featuring durable nylon and rubber construction, the Jack holds our Gnawhide® Rings in multiple locations to customize the toy's difficulty level. Place treats on either side of the purple center knobs to start. For more of a challenge, treats can be moved in between the green nub rings and the white tips. Enjoy this new twist on a classic toy!  Recommended for strong chewers. Available in 3 sizes.  Available in all 3 sizes from Active Dog Toys, ActiveDogToys.com.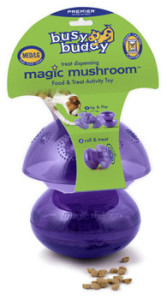 The Magic Mushroom's whimsical spin keeps dogs engaged as they work for their food. Twist off the mushroom base to load with kibble or treats. Replace the base and twist off the mushroom cap to adjust the customizable treat windows. Replace the cap and let the fun begin! The Magic Mushroom holds a variety of kibble and treats, including Buddy-Berries™ and Liver Biscotti® Small Bites. Available in 1 size: medium/large.
Available from Muttropolis, www.muttropolis.com.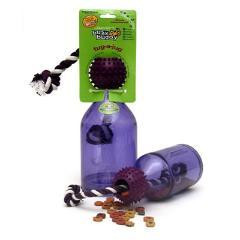 Premier Pet's Busy Buddy Tug-A-Jug is a fun and interactive dog toy that keeps dogs interested for long periods of time. The unique design of the patented Busy Buddy Tug-A-Jug lets dogs see, smell, & hear the dog treats as they roll around in the toy. Dogs love trying to get the treats out by rolling and pushing the jug or by tugging on the rope. A great dog toy for keeping dogs busy while they are home alone. You can fill the Tug-A-Jug with your dog's favorite kibble or treats.
A note from the manufacturer of the Tug-A-Jug:   Some dogs may chew through the rubber roper during play. However, this doesn't mean that the toy is unusable. Our staff and their dogs have had much success continuing to play with their Tug-a-Jug by placing various sized balls inside the jug with kibble or dog treats. As the balls roll back and forth, they act as a barrier and method of metering the food. By changing the size of the balls or the treats, the level of difficulty can be adjusted to suit your dog's level of play and interest. We recommend using a couple of golf balls or a Wiffle ball to begin with to build your dog's confidence as he plays. Once he understands the new rules of the game, you can be as creative or adventurous as you'd like with your selection of barriers.
Busy Buddy for Puppies
Busy Buddy Puppy Toys are designed specifically for the needs of young puppies.  Made with puppies in mind, these toys feature softer rubber that's safe for puppy teeth and durable enough for extended playtime.  They come in different sizes and are exclusively for puppies aged 2 – 6 months old.
Busy Buddy Puppy Squirrel Dude, available from Amazon, www.amazon.com features the Treat Meter™ which randomly dispenses dry food and treats as the

puppy plays. Coupled with its fun & funky bounce, this toy provides puppies with hours of play.  Available in 3 sizes – Extra Small
recommended for Chihuahuas, Yorkies and Pomeranians, etc; Small, recommended for Beagles, Cocker Spaniels, Shelties, etc; and Medium, recommended for Dalmatians, Golden Retrievers, Labradors, etc.

These resilient blocks feature our patented Treat Trapper™ which firmly grips a variety of treats, gradually releasing them as the puppy chews.  Available in 2 sizes – Small
, recommended for Beagles, Cocker Spaniels, Shelties, etc and Medium/Large
, recommended for larger puppy breeds.

Busy Buddy Puppy Twist n Treat, available at www.amazon.com

This treat dispensing toy features an adjustable opening that allows for a variety of treats to be stuffed inside. The opening can be twisted wider for easier access to treats or tighter for longer playtime.  Add small treats or smear with cheese or peanut butter for even more playtime options.
How it Works
1) When first introducing the toy to your dog, we suggest leaving enough space in the opening to allow treats to fall our regularly, so your dog can "win the game."
2) Once your dog plays successfully with the Twist 'n Treat, you can screw the opening tighter to extend the length of play.
3) The adjustable opening allows the Twist 'n Treat to be filled with a variety of hard, soft, and smear-able treats.
Available in  sizes:  Extra-Small
, recommended for tiny and miniature breeds under 10 pounds; Small, recommended for Terriers, Cocker Spaniels, Beagles, etc
; Medium, recommended for Dalmatians, Golden Retrievers and Labradors, etc.
<a target="_blank" href="http://www.amazon.com/gp/search?ie=UTF8&camp=1789&creative=9325&index=pets&keywords=Busy%20Buddy%20Puppy%20Twist%20n%20Treat&linkCode=ur2&tag=didogr-20″>Busy Buddy Puppy Twist n Treat</a><img src="http://ir-na.amazon-adsystem.com/e/ir?t=didogr-20&l=ur2&o=1″ width="1″ height="1″ border="0″ alt="" style="border:none !important; margin:0px !important;" />