DOG ACTIVITIES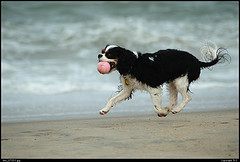 These days there are a wide range of dog activities for all dogs and their owners, regardless of whether your dog is a cross breed or pedigree.  Being involved in clubs and activities can help you to bond better with your dog.  Most dogs, especially the larger breeds, need a fair amount of exercise to keep them in top condition and
health
.  Any sort of activity for your dog is a great way to do this plus it's fun – for you and your dog.
As well as general dog activities and sports there a specific activities for specific pedigree dogs, such as gundog and field trials for gundogs only, sled pulling for the akitas and malamutes and such breeds, sheep herding for the border collies and kelpies, just to name a few.I have below listed some excellent reference books for specialised dog sports:-
Gundog Field and Retrieving Sports
Gundogs: Training and Field Trials
by P. R. A. Moxon and Terry Bailey;
Working Gundogs: An Introduction to Training and Handling
by Martin Deeley;
Taking Control: The How and Why of Basic Gundog Training
by Anthea Lawrence.
Sled Dog Training
Mush! Revised: A Beginners Manual of Sled Dog Training
by Inc.Sierra Nevada Dog Drivers and Charlene G.Labelle
Sheep Dog Herding
Training The Sheep Dog by Thomas Longton and Barbara Sykes;
Herding Dogs: Progressive Training by Vergil S. Holland and Wait Jagger.
The general dog activities where any dog can compete are in the areas of obedience trials, agility trials, tracking, jumpers, doggy dancing. etc.  With these competition activities you are best to join a group or club who have trainers who can instruct you and help you to teach your dog how to do these activities.  They will also have the equipment necessary for you to practise on.  You can find some great books and videos on dog activities here at
Working Sled Dogs             Working Sheep Dog       Gundog Retrieving Trials               Dog Agility Trials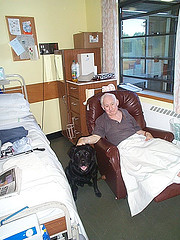 Other forms of dog activities can include training your dog for therapy work, rescue, pets for assistance, or even just a canine good companion course which helps you to have a well behaved pet rather than a pest.
Here are some links for specialised books on training your dog for therapy and rescue work:-
Therapy Dogs: Training Your Dog To Reach Others by Kathy Diamond Davis;
Therapy Pets: The Animal-Human Healing Partnership by Jacqueline J. Crawford, Karen A. Pomerinke, and Donald W. Smith;
Search and Rescue Dogs: Training the K-9 Hero, Second Edition by  American Rescue Dog Association.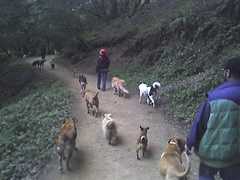 Activities could also just include you taking your dog to the beach, to play in the park, for a good bush walk.  Dogs need exercise and any way that they can have fun which bring a better relationship between you and your dog.  It will mean that your dog will also stay fit, healthy and preventing him from getting overweight.
For information resources on general dog activities and tricks you might like to look at these:-
101 Dog Tricks: Step by Step Activities to Engage, Challenge and Bond With Your Dog by Kyra Sundance and Chalsy;
The Little Dogs' Activity Book: Fun and Frolic for a Fit Four-Legged Friend by Deborah Wood;
Training Your Dog for Sports and Other Activities by Charlotte Schwartz.
If you wish to join in on some of the above competition type activities the best way to find out information on them is through your local Canine Association.  They will be able to put you on to club members who will be able to explain the dog activities they are providing for the community.